Return to index
Ragnar Lian
Ragnar Lian was born 17. August 1933 in Hof, Norway. He has a younger brother, Harald (who is still as of 2015 is living in Hof today). His father was the electrician in Hof and had his own business; they handled everything electric in Hof. His mother took care of the accounting / bookkeeping and financial side. The neighbours daughter, Aud, would become Ragnar's future wife.
At the age of 13 he moved to Oslo to live with his Aunt and go to high school (realskole), he was very talented and was able to skip one year, then went on to the Teisen Gymnasium ("College") in Oslo.
In 1951-52 he went to trading school, and at the same time he worked with an electrician and at an office. In the 50s, according to Aud Lian, he worked for Dahle at a radio store, which was located in the city hall area of Oslo (Norwegian: Rådhuskvartalet).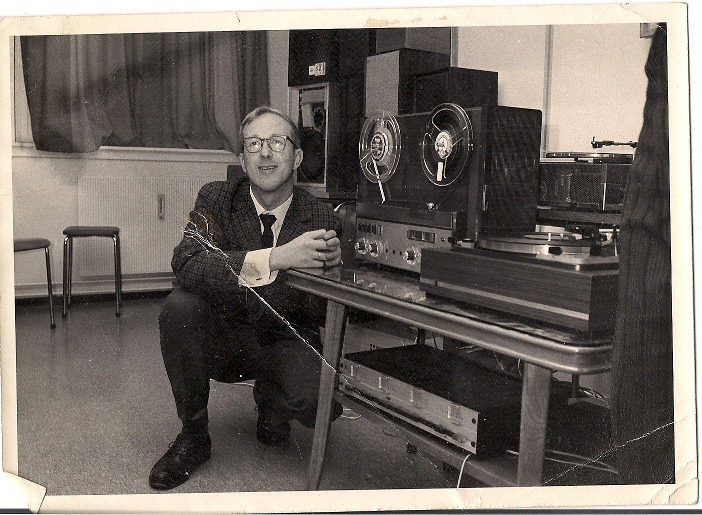 Hereafter he was in the military, where he beyond the obligatory 18 months continued on Sergeant Academy in the air force, in 1953-54 at Gardermoen, herafter as instructor at RadarLab. Ragnar was an instructor at "Lutvann" for a period of time (Lutvann is a military camp). Ragnar Lian was very young at this point and (one of) the youngest employees at the academy. This is mid-1952 to mid-1955. During his military service he would visit the family and this is where he started to notice the neighbors' daughter, Aud (born 1940).
Then around 1955 (age 22) he took classes in German (SFU) and requested to be a student at NTH in Trondheim, but was only offered a seat in Chemistry, which he tested out first half of 1956, including Math (NITO), then decided this wasn't the right thing for him. In parallel from about mid-54 until mid-56 he worked at A/S Kardal.
Instead, Ragnar Lian attended evening classes in mathematics, which would be necessary to qualify for pre-testing at a German Hochschule (engineering school). Two years from mid-56 until mid-58 at Almar Næss (Dr. phil. Almar Hagerup Schjønning Næss, by the way, whose brother Arne Næss was later married to Diana Ross). The classes would run for 4 hours each evening from 6 p.m. to 10 p.m. and then afterwards Lian did his homework.
At the beginning of August 1956, Lian was strolling up Kristian Augusts gate, when an old acquaintance from Lutvann shouted out a window and asked him to come in. It was Radionettes department and they desperately needed more people. He quit the job at A/S Kardal and was hired to work on the Kurér line with trimming and OQC (Outgoing Quality Control). After about a year, Lian realized this was the hardest possible way. The immense work pressure gave Lian health problems; he suffered from headaches and eventually had a breakdown. He looked around for an easier job and found a job at P. N. Biørn where he had to take care of sales and service of measurement instruments. He quickly gained a particular interest in Brüel & Kjær, and when he was in Nærum for training, he flagged that he thought of further education in Germany, but B&K strongly recommended an engineering school in Aarhus (Aarhus Teknikum, later named IAH, a part of Aarhus University, AU), today maybe ASE.
When walking up Kr. August gate, he was on his way to a photo gallery (in house no. 15). Radio and photo were the two main interests of Ragnar Lian.
When Lian was finally done with the private lessons, he quit the job at P. N. Biørn where he had worked from early-57 until mid-58, by the way, P. N. Biørn was a Norwegian representative for Peerless. Then he bought a train ticket to Darmstadt, where there was a Norwegian colony. He stepped off the train in Aarhus to see what it was. It was in the beginning of August and they had their exams. The school principal, the name Oluf Jacobsen pops up, looked at the exam papers and said Lian could complete the education in 2 years. They had one candidate who had quit, so they had an open spot and exam number for Lian. Lian went to the missionary hotel on Saturday and started the exams on Monday. It went so well that with the exam results Lian could request the ministry of education for a dispensation and skip one year to complete the education in just two years, so he never went to Darmstadt.
This generally describes Ragnar Lian very well. He was easily distracted. Suddenly things took a different turn.
Ragnar Lian studied 2 years at Aarhus Teknikum, from mid-1959 until mid-1961, and he graduated with a BSc in Electrical Engineering. This is the same school which C. C. Nørgaard Madsen attended to.
To finance a part of the study, he took an evening job in a radio store, where he repaired tape recorders. Through this connection he became a member of the Aarhus Båndamatørklub (eng.: Aarhus Tape recording Amateur Club), where he met Ejvind Skaaning. They shared the same interest, audio.
Later Ragnar and Aud fell in love and they were married in 1960. They had a mutual interest in Jazz, which was also shared with the son of the local priest. In Hof this was not appropriate at the time and the interest was kept to themselves. In the local village, one would have to be interested in sports. Aud moved to Aarhus (Denmark) with Ragnar and she became a Librarian Assistant at the Aarhus Statsbibliotek (National Library).
Ragnar was generally very interested in music, and in particular Organ music had his interest. The interest was shared with Ejvind Skaaning. One day Lian would be at an Organ Concert event, and he was setting up his tape recorder + microphone, when he noticed another microphone hanging down. He followed the wire and found at the other end his friend, Ejvind Skaaning, busy preparing his own setup with his own tape recorder. They started to record together.
Aud and Ragnars first child, a daughter named Kjersti, was born in Denmark, 1962.
After finishing in Aarhus, Lian got a job at the Acoustics Lab (Danish: Lydteknisk Laboratorium), at DTH (today DTU), and he was in Copenhagen for two years (from mid-1961 until mid-1963). Constantly he kept in contact with Ejvind Skaaning and fed Skaaning with amplifier constructions. Furthermore, Lian took care of the DEMKO-approval. In 1963 he was headhunted to SEAS in Moss.
Lian met C.C. Nørgaard Madsen at a conference in Aarhus. They came to talk and Lian was hired to SEAS. They moved to Moss. First, they moved into a townhouse on the Island of Jeløya, in the Refsnes area. This accommodation was offered by SEAS, who was managing a number of residences in the area. He worked at SEAS from 1. July 1963 until 28. February 1970.
Ragnar Lian started with transformers, at the time SEAS made 5.000 pcs per day, predominantly to Radionette. Afterwards, he was transferred to the development of transducers, where he worked with Mogens Hvass. The first couple of years it was mostly about standard transducers, but from about 1965-66 Hi-Fi was starting to show up, and then the fun started. Then it was allowed to step outside the beaten paths.
SEAS may have produced transformers (both main input converters as well as loudspeaker transformers) exclusively for Radionette.
Throughout the last part of his time at SEAS, he had a very good contact with Jan Paus and Bjørn Børja, who at that time was studying at the Acoustics Lab, NTH, and together they designed a studio monitor speaker for NRK. (NRK is Norsk Riks Kringkasting - i.e. Norwegian National Broadcasting)
Summer 1967, Ragnar drove together with an organist from Fredrikstad, Søren Gangfløt, one week down mainland Europe to look at and test old organs. By the way, the son of Søren Gangfløt (named Eystein) became an organ builder by profession (the company is named Gangfløt Orgel, located in Gressvik).
Aud and Ragnar's second child, a son named Jan, was born in Norway, 1967. Their row-house on Jeløya became too small and they built a new house in Våler (Ragnar built the house himself, it took one year). They moved in 1968.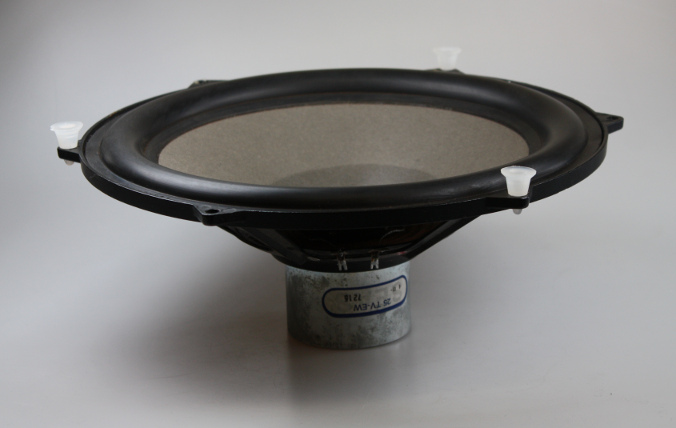 During this time he made several engineering breakthrough designs. For example, around 1968 he designed some of the world's first Hi-Fi woofers with rubber surround (8 inch 21 TV-EW and 10 inch 25 TV-EW). Also the first soft dome tweeter with a textile diaphragm and a pure Aluminium wire voice coil was designed by Lian (H 87, launched in 1968). To succeed with the Aluminium voice coil wire, copper tinsel wires were used and a special soldering process developed.
The economy was tight at this point and when Lian asked for a raise he experienced that Nørgaard Madsen took advantage of the situation with the new house and his request was rejected. That year Lian did not get a raise, which he displeased, the situation was tough, and it created somewhat of a conflicting situation with Nørgaard Madsen. Other than the financial side, Lian was happy with working at SEAS and on a personal as well as technical level, Nørgaard Madsen was a good employer. Aud Lian never became comfortable with living in the house.
Both the woofer and tweeter were used in the famous Dynaco A-25. Exactly how much Ragnar Lian had to do with the Dynaco A-25 speaker development is a bit unknown. Partially because everybody tells a different story and everybody would like to own a share in that design. According to the history of Scandyna (Peter Munster Hasselriis), the Dynaco A-25 was designed by Ragnar Lian and David Hafler in 1968.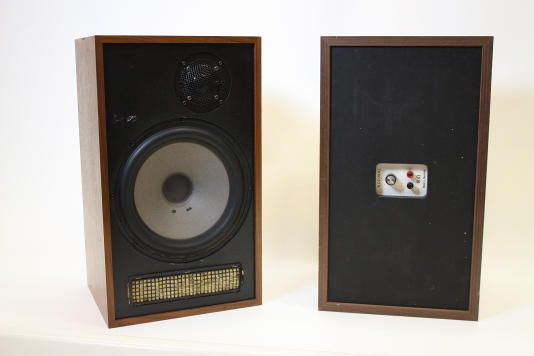 Lian decided to switch from SEAS to Scan-Speak in Denmark (March 1970, shortly after Scan-Speak was founded by Ejvind Skaaning). He continued working here until 1976 when Scan-Speak was liquidated.
It is said that Lian left SEAS in protest that Mogens Hvass was forced to leave SEAS. There is a possibility that Lian took part of transforming QSR to Scan-Speak, maybe even before he stopped at SEAS. It is clear that Lian at this point had already known Skaaning for a decade. They had mutual interests and the fact probably is that with the financial tight situation, Skaaning offered Lian a much better paid job + bonuses. An offer he could not reject.
Lian took the job at Scan-Speak, as Development Manager, sold the house in Våler, bought a house in Stilling (Cortinavej 27).
Aud and Ragnar had their third child, a son named Anders, born 1971.
While working for Scan-Speak, he invented the Symmetric Drive concept, with a copper cap on the pole piece to make the voice coil inductance versus excursion Le(x) symmetric, which was patented (US patent 3.935.399) and he wrote an AES paper titled "Linear and Non-Linear Time Delay Distortion in Loudspeakers." This paper describes the nature of linear and nonlinear time delay in loudspeakers. Remedies to reduce or remove this effect are described. Some practical results are described. AES Paper Number: A-4, AES Convention: 47 (March 1974). Author: Lian, Ragnar.
Some of the success for Scan-Speak stems from the scientific nature of the patents and AES papers. This profiled Scan-Speak as a more knowledge based and scientific company.
Lian had a philosophy; to work with the time-domain. This is something which is still deeply ingrained in Scan-Speak products today (old and new designs).
While working for Skaaning, Lian also received annual part of the company profit. One year it was more than a 100.000 kroner, which was a lot at the time, for which the Lian family bought a country house in Eidsfoss (from the 1600th), located only 10 minutes from Hof, which had a couple of barns attached. Ragnar loved the place. Ejvind Skaaning was very generous.
Lian experiences the demise of Scan-Speak first hand. Although Ortofon at first re-brands Scan-Speak and tries to launch a new speaker brand under Ortofon, the involvement of David Hafler was generally very bad. Hafler bought his way into Scan-Speak, yet couldn't keep his promises.
At Scan-Speak they decided to hang Ortofon.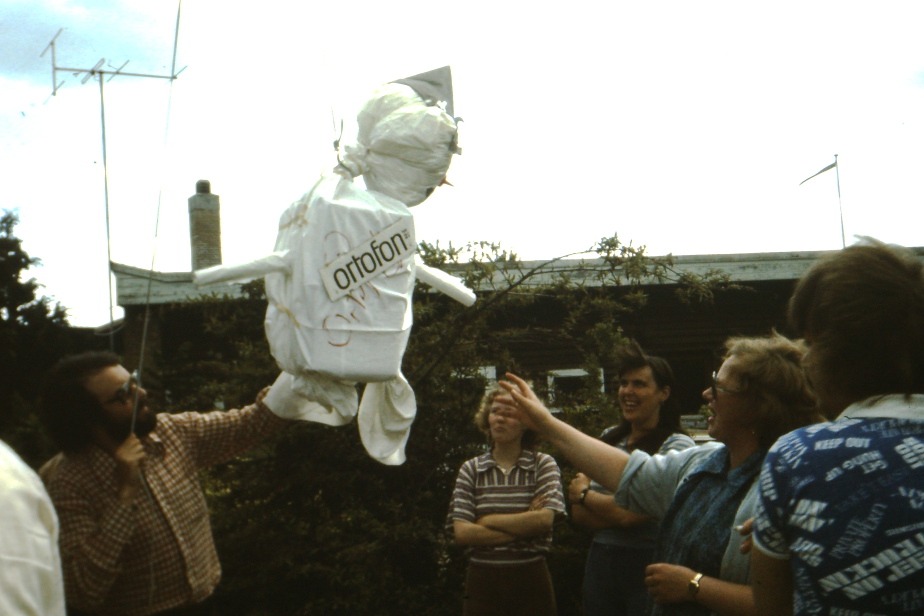 Lian founded "Lian Elektroakustikk" - the exact timing is unknown, but it could be during the short time of unemployment that he experienced when Scan-Speak was shut down.
Lian was hired to work at B&O in January or February 1977. After the demise of Scan-Speak (around September/October 1976) he had been unemployed for a few months.
The time at B&O became the peak of Lians career and he clearly had his best time here. His manager was Esben Kokholm, he is remembered as a big man, they had a good cooperation and he visited Lian at home. Among his accomplishments, he developed the B&O Beovox C75 speaker. This speaker became world famous and was shown at the Museum of Modern Art in New York. He received Dansk Industriråds Pris (The danish industry council award) for the design and it was even published in the Norwegian newspaper Aftenposten (the evening post), Wednesday the 21. March 1979, that a Norwegian was behind a remarkable development at B&O. The article mentions that the market was craving small quality speakers, in which a new principle named log-line was used and in November and December 1978 alone, the speaker sold 30.000 units. The C75 continued in production until year end 1984 when in 1985 it was upgraded and became the famous Beovox CX100 (the principle was changed to a standard closed box), which was in production until September 2003
For the work on the C75 speaker, Ragnar Lian worked directly together with the danish designer Jacob Jensen. The design was an important aspect in the success of that speaker and in spite of some technical changes, the visual design was left largely unchanged during the 25 year lifetime of the product on the market.
Lian had a great time at B&O and not least he enjoyed many trips around the world, not least to Japan, together with Mr. Vestergård, who was responsible for the commercial side. This was for setup of various productions of speakers. The family has an entire photo album / scrapbook filled with pictures from his trips. One picture shows Lian next to the hotel pool with his leg in bandages. A broken leg couldn't stop Lian.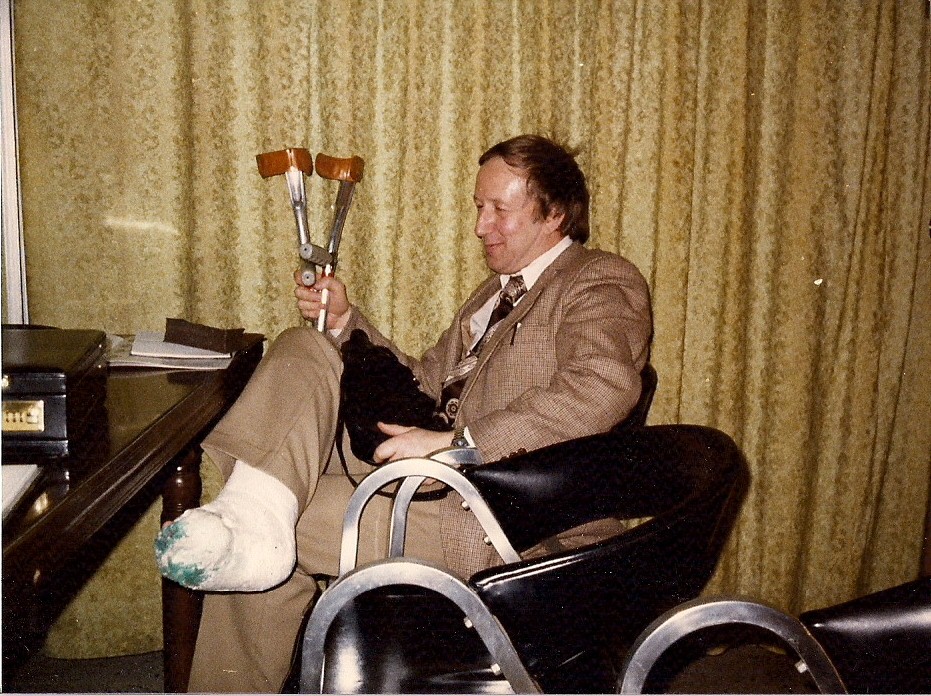 At B&O money was not sitting as loose as with SEAS. Every penny had to be accounted for. Travel spendings were on daily diets, which kept a cap on the spending. Lian did bring home gifts to the kids, paid with travel money. Generally it was OK.
A second AES paper was written, published in 1977 when Ragnar Lian had switched to work for Bang & Olufsen, titled: "Time Distortion in Loudspeakers." From the fundamental pressure/time functions, this paper describes the different types of distortion appearing in loudspeakers. Special attention is paid to time and pitch distortion. Different mechanical solutions in loudspeaker driver design and their influence on magnitude/time distortion are discussed. Some preliminary conclusions are drawn, though the paper proposes more questions than answers. AES Paper Number: 1207, AES Convention: 56 (March 1977), Author: Lian, Ragnar, Affiliation: Scan-Speak A.S., Skanderborg, Denmark.
Aud Lian remembers Struer as a not particularly attractive place and she also had work in Aarhus, so during his years at B&O, the Lian family would stay in Stilling, near Aarhus. The family eventually moved from Cortinavej to a larger house on Gunvaldsvej. Instead Lian would rent a small apartment in Struer, work there 3-4 days a week until 11 p.m. and have a long weekend at home in Stilling. He also had a home office at the house(s) in Stilling.
His sons remember the office as a very interesting place, like a paradise for boys of electronics and all sorts of things. Here Lian also started his consulting company, Lian Elektroakustik.
Lian explains: There were several employees at B&O who were offered telephone calls with the offer to come work for Tandberg, for slightly higher wages than what was paid at B&O. During his autumn vacation, Lian was in Oslo and had an appointment with Jens C. Hauge. I met him at his office and there was a ready-made contract, all I had to do was sign it. I didn't sign the contract. A few months later Tandberg went bankrupt. Another employee from B&O had made the jump on the offer. He sold his house in Denmark, and bought a house in Oslo, now facing big losses and no job. This must have been around 1977.
In parallel with B&O, Lian would also work for Peerless (through his consulting company), where he came into contact with (among others) Knud Thorborg.
At the time Bang & Olufsen was still run by the founders and their family. Ragnar Lian experienced the humor of Jens Bang (son of Peter Bang) when Ragnar visited his farm in West-Jutland and together they walked over the sand dunes to the ocean (the North Sea), Jens Bang would say "Here is my ocean" as if that was part of his farm.
The important quartett at the B&O loudspeaker department were Lian, Jens Bang, Jacob Jensen and "MIK" Mikkelsen (a production engineer).
In the late 70s, Ragnar Lian purchased a Sharp computer, with integrated (thermo?) printer on the left side, which he programmed to do loudspeaker box calculations.
Around 1982-83 the computer was upgraded with an Apple II. This was not normal at the time and the Lian family was probably the only household in the greater Skanderborg/Stilling area with a PC at home.
In 1984 the Norwegian national championship in Skiing was held in Hof, and Ragnar together with his brother Harald would take care of the complete audio setup. This was made with B&O C75 speakers on large poles.
His wife, Aud Lian, decided in 1984 to start on the education to become a librarian. With more than 300.000 unemployed people in Denmark, it was time to assure yourself with some education. This would last 3 years, until 1987.
Lian worked again for Scan-Speak during the period of 1984 - 1987 and the cooperation would continue until 1990, when from 1987 - 1990 it would partially work from home in Norway and partially in short periods of 6-10 days at the Scan-Speak factory. When at Scan-Speak, he and Aud would stay in a nearby summer vacation house. During this time, he would act as chief engineer. The general manager was Steen Sloth. At the beginning both were driving a SAAB 99, which was also a frequent topic of conversation. Lian was a big fan of SAAB. Later Lian changed to a SAAB 900.
During his second time working at Scan-Speak, Lian was essentially the chief engineer and he played an instrumental role in the development of the new (at the time) 18 cm Polypropylene woofer, the 18 and 21 cm Kevlar and Carbon fiber cone woofers, which was supplied to highly acclaimed speaker manufacturers in the world.
Lian repeatedly had to defend his SD-patent in court, which he personally owned and maintained, and which Scan-Speak was paying royalties for. The patent was signed in large parts of the western world, but Philips BV in the Netherlands continuously attempted to break the validity of the patent in various countries throughout Europe, just for the sake of the principle, but every time without any luck. Lian was a true master in explaining technology, and he succeeded to explain to every judge at various courts in different countries, why Philips had no valid reason to negate the patent.
People who say that when you understand something to the very core, then you'll be able to explain it to others so they can also understand it, they can use Lian as an example. He had a talent to explain things in a meaningful way to people who otherwise had no background in the subject.
As Scan-Speak was sold to Vifa (1989), and the joint company Vifa-Speak was created, Lian wasn't popular at the top management (i.e. Magnus Nesdam-Madsen), maybe because he had originally switched from working at SEAS (with Nesdam managing the Danish site) to Scan-Speak, a competitor.
I believe the last product which Ragnar Lian developed for Scan-Speak was the famous D2905/9000 tweeter (launched in 1990). This design is entirely the work of Ragnar Lian in every detail, from acoustics to drawings and into production. It was exceptionally well received in the industry. It was, among others, being delivered to ProAc in the UK, before production moved to Videbæk Højttalerfabrik in 1990.
The family chose to move back to Norway for family reasons. Ragnar worked 6 months for ABB (later EB Telecom) from the location in Skanderborg, before the family made the move.
Lian was a big support for Kim Hedehus, who was taking over much of the work. As Videbæk took over, Lians role ended. There was no canceling of any contract or such, but people in Videbæk wanted to do all of it by themselves - maybe because the chemistry between Lian and Nesdam wasn't the best.
Steen Sloth: Please note that Lian had a good insight into other people's potentially problematic sides, but without being confrontational - but Nesdam's did not have such ability and the connection with earlier conflicts between SEAS and Videbæk, as well as B&O's lack of desire to buy units from Videbæk Højttalerfabrik when Lian was an engineer at B&O's speaker department, might have played a role. (But already back then, Videbæk Højttalerfabrik became an overpriced supplier to the middle market that B&O would buy from).
Steen Sloth: Having said that, I also know that Nesdam had great respect for Lian's competencies, and at that time, Jens Bang had joined the board of Vifa, and Jens Bang and Lian were formerly very close colleagues, with great mutual respect, which might have played into Vifa's desire to buy Scan-Speak.
After moving back to Norway, he started working for EB Telecom in Billingstad, Nesbru (Nesbru on west side of Oslo fjord). EB stands for Elektrisk Bureau. Here he continued being interested in developing loudspeakers and he wrote an AES paper titled "Distortion Mechanisms in the Electrodynamic Motor System." During the last decade, much work, both theoretical and practical, has been done on the loudspeaker diaphragm and moving system, while the motor seems to have been forgotten. This paper deals with the different distortion mechanisms in the electrodynamic motor. Some old works are reviewed, and some new are added. In order to isolate motor distortion, some measurements are carried out using force transducer attached to the voice coil. Distortion mechanisms in some typical magnet structures are described, and some proposals for improvements are given. AES Paper Number: 2572, AES Convention: 84 (March 1988), Author: Lian, Ragnar, Affiliation: EB Telecom, Nesbru, Norway. The paper was presented in Paris and Aud Lian remembers being on that trip.
While the Lian family moved back to Norway, the oldest daughter, Kjersti, who was an adult, and who at the time worked at the call desk for Kreditforeningen Danmark, would stay in Denmark. She never achieved Norwegian citizenship. For the last 20 years (as of writing 2015) she has been living in southern France. Jan Lian finished his education in Norway and is a lawyer at the Norwegian Tax Offices.
EB Telecom would later be sold to Nera Group (located 100 meter down the road), today part of ABB, and later again the subsidiary would be named Contec, located 200 meters down the road in the other direction (in a building with a big glass facade). Here he eventually became "Senior Design Engineer, R&D Mechatronics". Lian worked for Contec for many years, later as freelance, through his company Lian Elektroakustikk. First incorporated as a stock company ("limited company") and later as this became too expensive, converted to a privately owned company.
Moving back to Norway was a bit of downturn for Ragnar Lian. He lost the frequent contact to his friends, an entire network of people, as well as the close contact with the loudspeaker industry, which was close to his heart. Both socially and work related, this was a bit of a downer. Ragnar Lian was very happy working in Denmark and with danes. He was pleased with the Danish irony, a kind of humor not unlike British humor, where you can say things in an ironic way and people would speak back the same way. A kind of humor which in other countries (including Norway) would be considered impudent. Lian felt very much at home in Denmark.
During this entire time, the Lian family was living in Vettrelia (in Asker), from 1984-2005. Ragnar Lian loved this place and living here for more than 20 years it was the longest stay in a single location through his life. The daily drive from Vettrelia to Billingstad only takes about 10 minutes by car.
Ragnar remained interested in the field of loudspeakers, and in November 1998 he gave a presentation at the Norwegian AES Conference. Lian, R., "Vårluft om høsten, current drive (?) m/tilbehør," Here is a link to the presentation (the 'original' in Norwegian): AES984.pdf.
Lian Elektroakustikk had a record breaking turnover in 2004, when Lian had in theory retired. For the first time, the company turnover would be more than 1 mio. Norwegian Kroner.
He had a famous notebook of ideas, remembered by Hans Jørn Lindberg (who worked for Skaaning since 1969 and until 1976 + for Vifa since, then back to working 30 hours per week for Scan-Speak as production engineer, retired 2014) - and Mark Allan Thorup (working for Skaaning at Dynaudio since 1983, later became Factory Manager, later R&D Manager, had 25 years anniversary in 2008). The book was Lians way to store his ideas and potential inventions of all sorts and looking through the book would reveal an enormous knowledge as well as be an overwhelming source of inspiration. Lian didn't force his ideas into new products, but patiently waited for a suitable application and time.
In March 2005 the family moved from Vettrelia to Berger (near Svelvik). It was late winter. A moving company was hired to help with the move, but they only took care of the furniture. Lian had a large basement dedicated to his work and interests which his sons helped to move. In particular his sons remember how they had to help move an entire voice coil winding machine and large quantities of copper. This was quite a heavy load. His sons also remember how this move wore down Ragnar Lian a lot. That move took a toll on him and he never entirely recovered.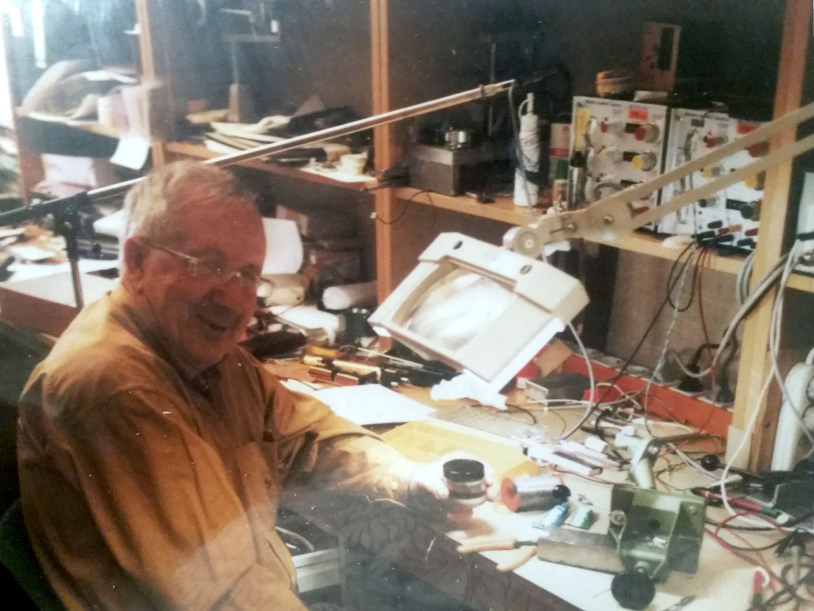 Ragnar appreciated taking care of stuff and didn't like to throw away anything that could potentially become of value some day. On the other hand he was gifted with an incredible memory as to where stuff was stored. In Eidsfoss one of the barns would be full of foam wedges for an anechoic chamber as well as organ pipes (both metal and wood), collected over the years.
I believe the last time Ragnar Lian joined with his Danish colleagues was when Knud Thorborg had his 50th Anniversary with Peerless in 2006. After the official celebration, Thorborg, Lian and Jens Bang met in private afterwards. Ragnar called it a "mimre-meeting" (as in the very old peoples club). Jens Bang was happy for everybody meeting that day. Ragnar received a book about the history of B&O from Jens Bang and shares his latest passion - the new laboratory in the basement at the new location in Berger.
While back in Norway, Ragnar picked up the connection with SEAS and Bjørn Børja. The chemistry was good between the two and they shared a long time interest in loudspeakers. They communicated about many technical topics and eventually this lead to the launch of the SEAS Exotic F8 (8 inch fullrange) driver in 2007.
Ragnar Lian remained active in a Norwegian forum, as well as the Danish Engineering forum. Among other things current drive had his interest (instead of traditional voltage-drive, a signal chain / amplifier which converts input voltage to output current is used - the current is controlled by the input, not by the speaker impedance, and this is current-drive)
Lian admired Harald Nybø who was responsible for the construction of the Radionette Kurér range of portable radios.
In his later years, while picking up the contact with Bjørn Børja at SEAS, he was living in Vettrelia, 1392 Vettre, near Asker on the west side of Oslo fjord.
He worked at Kitron, together with Lars Simonsen (EB Contec) and they also started a business on their own, together. Lars Simonsen started in the role as an assistant to Ragnar Lian and Lian was a mentor to Lars Simonsen.
Lian, Simonsen and Morten Lindberget started the company SwitchOn in 2000. Today (2015) Aud Lian has some stocks in SwitchOn.
Ragnar Lian passed away in November 2008. At the funeral, his friend and partner in business, Lars Simonsen, held a speech which I've decided to translate and publish here: In memory of Ragnar Lian.
Key sources of information: Bjørn Børja and Jan E. Paus. Wenche Lyche found exact date information for Lians work at SEAS in the archives at SEAS. Email correspondence with Steen Sloth. A meeting with the Lian family (Aud, Jan and Anders), 15. March 2015, and later followed up with correspondence. Written correspondence between Lian and Nørgaard Madsen (dated 1963), including a CV.
---