Return to index
Knud Thorborg
Knud Thorborg was born 23rd September 1928 in Copenhagen (Gentofte), Denmark. He was baptized 28th October 1928 in Davidskirken.
Knud became a student from Gentofte Statsskole in 1947 and he held a master's degree in electrical engineering from Polyteknisk Læreanstalt (today DTU, Denmark's Technical University), finished 24th January 1953. After serving in the army (as a navy marine soldier) he worked at the faculty of electrical engineering in the acoustics lab until March 1956 when he was hired by Peerless. He passed away Tuesday the 26th May, 2015. Survived by his younger (second) wife, Monika Tschalär with whom Knud has two children, Martin and Katrine. Knud had three children with his first wife, Ingrid Hjort, named Vibeke, Lisbet and Jakob.
Knuds father, Johannes Levinsen Thorborg, was from Hornsyld and his mother Grete Barfoed Fog was from Horsens. They had four children, Helle, Knud, Kjeld and Karsten. Johannes became cand polit (1920), moved to Gentofte in 1924 (Tjørnekrogen 6) in the vicinity of his work as an official / civil servant, later married Grethe and they started the family here. Later (1929) they moved to Udsigten 28.
When Knud was a child, he was into everything, a real troublemaker in the best sense of the word. His mother wrote a diary which among other aspects of the family life clearly shows how anything he could get his hands on would be investigated and put into surprising context. Maybe these were early signs of an engineer being formed.
A lot of information is available about the family and early lives of the children, predominantly collected by and currently in possession of Knuds younger brother, Karsten Thorborg (he is approximately 15 years younger than Knud).
The family on Knuds father's side has roots in farming (the family purchased a farm which was named Thorborg, from around the year 1850) and doctors, and they were strongly religious. His family on the mother's side were priests (although not everybody were priests, of course). His father couldn't completely align with the religiousness and instead went in the direction of working for the government as an official / civil servant, but the family had very strong ethical and moral values. It was important to be of value, to be dutiful and these values were instilled also in Knud from a young age. Knud would be very tough at debating. People remember when he was debating politics, his opinions were very strong and he had difficulties changing his mind about things. In the end, though not easy, given a bit of time and sufficient evidence, he could be convinced to change his mind. At the same time he could see things from the side of the minority and be a supporter of this viewpoint.
Knud married his first wife, Ingrid Hjort, in Venice (Italy) 22nd August 1952. Ingrid was almost 19 years old (born 19th December 1933 in Tommerup). They married in Venice due to some family issues in Ingrids family and they didn't want this to affect their marriage. She was a beautiful and intelligent woman. The first years of their marriage were very happy. The marriage was partially the reason why they could be assigned to move into an apartment, Hovmestervej 43. In 1953 they bought a small house, Oldmarken, Bagsværd. The first two children, Vibeke and Lisbet, are born. This happened after Knud finished his studies and was hired to the acoustics lab. While Knud finished his studies, the family was supported by Ingrid working in an office. This at a time, when it was beginning to become more acceptable for women to join the workforce.
Knud explains: When DAS (Danish Acoustical Society) was founded in 1955 I was working at Professor Fritz Ingerslevs "Lydteknisk Laboratorium" (eng.: Sound Technical Laboratory) at DTU - or DTH as it was named back then. After graduating in 1953 with a masters degree in electrical engineering, I worked three instructive years at the laboratory and I was an obvious candidate to be a member of DAS - and has been ever since.
Professor Ingerslev was at the time very understanding when I informed him that I was looking for new pastures, he said: "That it was healthy for young engineers to try to work in the private sector for some years." It became more than 50 very exciting and often very emotional years - where I was alternately a treasured employee and a necessary evil for different owners and managers - and if nothing else, I helped to ensure continuity in the development of the company products. (After Peerless merged with Vifa and Scan Speak in 2001, the current CEO, Tonni Birk Sørensen was no. 10 in the series).
After Tonni Birk Sørensen, 2006 an onwards, came another number of CEOs.
When Knud started at Peerless, the factory produced all components for transducers in-house, including the moulding of its own magnets (AlNiCo). The corporation was a highly vertically integrated company and included its own machine shop for making all the different production tools.
In 1958, Knud and Ingrid bought a piece of land near Bagsværd Lake for 20.000 kroner, Elmevænget 34. People thought they were crazy. The land was a swamp, but Knud appreciated the piece, the nature and the lake. They had to fill the plot with lots of additional soil before building their house, which by the way was drawn by architect Carl Henry. On 27th November 1958 they moved into the house. Later the area was developed and today is a treasured area to live in, all around the lake (also the opposite side, Furesø county, the city Farum) and Knud was well aware he has hit a jackpot. He knew that he could not have afforded such a house based on a normal engineering salary, based on the popularity at present times. This house was one of the best investments Knud ever made and he expressed that he wished to live here for the rest of his life and eventually be carried out - and this wish was honored by the family. It is a little piece of paradise.
Knud and Ingrid hired a young Swiss woman to take care of their children. In particular Jakob required supervision because he has ADHD (he was 3 years old at the time). This woman was Monika Tschalär, later to become Knuds second wife. Monika had come to Copenhagen from Paris, where she was studying/travelling together with a group of people. They had decided to go on a tour of Scandinavia, to study design. Monika in particular appreciated Danish design, like Henningsen, Wegner, Mogensen, etc. and therefore, while the rest of the group of people decided to move on, she decided to stay in Copenhagen (Holte). Local people helped her to put an announcement in the local paper that she was looking for a job. Four offers arrived, but Monika was drawn to the work at Knud and Ingrid, maybe it was the kindness of Knud and the view of Jakob with paint all over his clothes. At the time Monika didn't speak a word of Danish. She speaks Swiss-German, French and Italian (the main languages spoken in Switzerland). Today she speaks fluent Danish, but English not so much.
The marriage with Ingrid went into a crisis, starting around 1960, which went up and down over the years, eventually leading to Ingrid moving out and into an apartment. Prior to this, Ingrid had educated herself as "social worker" and this made it possible for her to support herself. She worked at Hillerød Sygehus (eng.: Hillerod Hospital). Initially the two older daughters staid with Knud, while the younger son, Jakob, moved with his mother. They were officially separated 19th February 1969. The divorce was not final until May 1978.
Monika was very helpful during the difficult times, also through the separation process, taking care of the children.
Later Monika was again travelling in the area, October 1968, together with some travel companions, and she decided to visit Knud. They had some deep conversations, but Knud didn't quite know where Monika was standing or what the exact relationship with the travel companions was. They eventually, over some time, agreed to live together. Monika went back to Switzerland where she had commitments to her work as a kindergarten teacher in Wädenswil and to prepare the move to Denmark and Knud together with the two girls drove to Switzerland to pick up Monika in April 1969.
Knud and Monika (born 28th May 1937 in Chur, Switzerland, she's approx. 8 years younger than Knud) initially lived in a "paperless" marriage and they have two children, Martin and Katrine. Monika is a warm and independent woman who combines Swiss values such as a sense of duty and a sense of order with the sense of a more non-conservative, non-middle-class Danish lifestyle. She is schooled as a kindergarten teacher in Switzerland and was for many years head of the "Fritteren" in Bagsværd Boarding School (an after-school program), initially under very primitive conditions. This was following a Swiss model and pioneered such after-school programs in Denmark. Later she advanced as a kindergarten teacher, and she worked a total of 16 years at this school. She then switched to Værebro school, which had a lot of focus on creativity in education. Here she became responsible for a class of mentally retarded children.
The divorce from Ingrid would take a long time (9 years) due to disagreements, but finally went through in May 1978. Knud and Monika married 30. June 1978 on Gladsaxe rådhus (city hall). The relationship with Ingrid was at times quite straining. As they became older, there were no hard feelings between them. The children from the first marriage did initially react with some jealousy and felt they had been left behind.
Karsten Thorborg remembers: "The house in Elmevænget, near the Aldershvile park and down to the Bagsværd lake, in their time became a gathering place for the family. They broke with Gentofte home bourgeois norms by gathering friends and family at the long table in the basement with paper plates and homemade wine and beer, while Vibeke and Stig played up for dancing afterwards on accordion and violin. Several of our parents' anniversaries were held at Slotspavilion at Aldershvile park with subsequent nachspiel in Elmevænget, such as the 50 year wedding anniversary on June 5th, 1976. Knud celebrated his 70th birthday in grand style at Sophienholm on the other side of the lake in October 1998. For Solveig and Hjørdis, Elmevænget has been a hospitable home in their Copenhagen life. In particular, they have annually been invited along with the nearest family to pre-Christmas Eve before the family went on a Christmas skiing holiday to Switzerland."
The Aldershvile park pavilion is known from a Danish TV series named Matador. A very famous show, later broadcasted in more than 20 countries worldwide.
Before officially taking over as R&D Manager in 1983, Knud had been unofficially the manager for some years when Brink became sick. This situation went on for around 10 years. For years, Thorborg and Brink were side-by-side in the organization. Before officially taking over, Knud remembers Brink suddenly to everybody's surprise showing up at work for a few months, before finally giving up on being R&D Manager and retiring.
From the 50th Anniversary of DAS (translated to English by Claus Futtrup): I will now tell a bit about the time when I began my career with Peerless. For Danes it will be familiar from the much-loved Danish TV series Krøniken (eng.: "Chronicle") that at the time there were about 25 factories in Denmark alone, who made radios, and that slowly they started also with production of TVs. They, like Peerless, grew up in the shelter of protective duty/tariff walls. Companies such as B&O, Linnet & Laursen, Eltra, Bravour, To-R, Arena, RTC, Neutrofon just to name some of the more well known. Peerless was the main supplier of speakers for these plants and also to much of the rest of the Scandinavian market. The only domestic competitor was Videbæk Højttalerfabrik (later to become VIFA), which probably had the advantage of being located reasonably close to B&O, but in the beginning they did not play any significant role. After the merger with SEAS however, they became more tactile as a competitor. Sinus in Sweden was forced on the defensive by Peerless, which early on had created "Peerless AB," which was a sales office located in Malmö.
In the beginning a radio receiver was a box with a technical appearance and black buttons, and with the loudspeaker located next to the buttons or on top. For many years a separate speaker was impossibly old-fashioned and it was considered suicide to try to relaunch such a product. The speaker(s) had to be built-in, and acoustically be open on the back side, which in spite of the obvious shortcomings - reign supreme. In an article in "Populær Radio" I criticized the state of things (that among other things, people were more interested in band scattered shortwave radio that nobody listened to, than actual sound quality), but then I was called to the office of director Linnet and ordered to behave. He felt I had backstabbed the Danish radio industry. To-R was the first radio manufacturer who dared to make an FM radio without a built-in loudspeaker. It was the starting signal for the speaker box industry - and the triumphal of the high-fidelity concept in Denmark.
New models were developed in the way that the technicians made their chassis and designers made their cabinets. Then the loudspeaker manufacturer had to fill out the left over space with the best and largest speaker. This led to a large demand for all kinds of possible - and some impossible - sizes and shapes of loudspeakers, typically round as well as oval shaped. Each new construction required a myriad of tools. Peerless produced, by principle, all components themselves, in addition to a number of necessary tools for their production. It took half a year to get all this ready, before the day arrived when the first speaker sample could be manufactured. The first test gave a good indication of whether the project would become successful - although of course you could refine and adjust afterwards. The paper cone was the most critical part. At Peerless the paper was ground in a "Hollænder" (eng.: "Dutchman"). The paper pulp was then primed up to become a thin soup and then sucked through a shaped grid in which the fibers settled and formed the desired membrane. This was dried in a tunnel and afterwards blown (by air pressure) off the grid only to be subjected to various finishing treatments.
In particular, I remember an elongated 3x12 inch speaker, which we agreed was totally unacceptable, when we saw the first sample. We quickly agreed to start from scratch with a new membrane, where we supposedly took into account the weaknesses of the first original suggestion. This delayed the project a few months, and when the new suggestion arrived, it turned out to be completely hopeless. We went back to the original design - and we found that in comparison with competing products, it was after all superior, and the "vacuum cleaner nozzle," as we called it, ended up being a big seller.
As my first assignment at Peerless I was allowed to try, if I could make a workable cone tweeter out of a small 2 inch communications loudspeaker, which at that time was available from Peerless. It succeeded, actually exceeding expectations, to get a fairly decent performance, and the product, named "MT20HFC," was shown at the radio exhibition in 1956 (the year when television had its big breakthrough). Peerless had built some monster demo loudspeakers which used the new tweeter. We played Mussorgsky's "Pictures at an Exhibition" in stereo on a Tandberg tape recorder, and Erik Tuxen, then conductor of the Danish National Radio Symphony Orchestra, listened with great enthusiasm.
Time was, however, not ready yet for such a product. But then it happened that Linnet & Laursen needed a front speaker for their television and they found out that there was just enough room for our little tweeter. It became a kick-start for this product - the first-year sales, I think I can remember was 25.000 pcs. It was connected and filtered through a 25 uF capacitor and was therefore required to play below the resonance frequency of the driver. The samples had been able to do that - so it became a requirement. It was an important feature for a television to have a front speaker, but in this case not everybody was enthusiastic. It was said that the sync tone (around 17 kHz) stood out from the speaker "in an arm thickness." When people complained, the repairman cut the wires to the speaker - and everybody was happy. Later on, this tweeter became the largest success for Peerless and was sold in millions, produced not only in Søborg (for a long period of time, for reasons of space, in a separate department in Herlev), but also in Leominster in the US and in Bombay in India. Other significant developments during this period include the KO10DT dome tweeter from 1972, which was the first of its kind, to render this principle its full justice and which until just a few years ago remained available - until the tools were worn down - and it became difficult to produce. Peerless was also first with heat-resistant voice coils on aluminium formers.
In 1961 Neville Thiele presented at the 1961 AWA Convention and then published in the Proceedings of the IRE Australia [5] in the same year a historical paper about dimensioning loudspeaker boxes. Thiele mentioned that he chose this media to give Australians "a leading edge." Knud Thorborg worked for Peerless (Denmark) when Thiele's paper was published. Peerless subscribed to the Proceedings of the IRE Australia and the engineers were quite interested. However, initial studies showed that the theory did not fit with experiments and the theory was rejected. Today we know the concept by Thiele became a huge success, but originally had sparked almost no interest. At Peerless it was later concluded that the reason was due to leakage losses in the transducers (probably from dust caps that were not air tight, which was not an unusual design at that time).
Peerless' slogan was: "There is a Peerless speaker for every need". We tried to cover all the needs of speakers - not to force customers into the arms of our competitors who could then increase their business. Peerless also had a number of side products for special purposes. The biggest was a 15 inch cinema speaker with sand-cast iron chassis and several kilogram heavy ring magnet. Another product was a folded horn for military use and for calling gear ("Tannoy" style) on for example ships. The "Skot" loudspeaker was encapsulated for outdoor use and explosion proof (approved for use for example at petrol stations). Column (pillar) loudspeakers for lecture halls and classrooms were developed in cooperation with the school radio (radio shows that supplemented education at schools). In addition, a number of consumer speakers, such as kitchen speakers in plastic cabinets, corner speakers to hang in the upper corner of a living room - a triangular baffle with three speakers. Peerless became best known among people for its speaker kits to the do-it-yourself market sold through wholesalers. Any teacher or installer could buy at a discount from Schouboe, Radio Parts or Rudolf Schmidt, whereas they could not buy finished boxes from the radio manufacturers. All sales were made directly from wholesalers, and hardly a copy was sold through radio dealers, which had been the original plan.
During his career, Knud Thorborg was responsible for the Asian marked, predominantly Japan. Here he had many contacts in, for example, SONY and Denon. Thorborg was privately friends with Mr. Katsuaki Tsurushima (the leader of the Engineering Development Department, responsible for the development of, for example, the CD-player and the Walkman).
Before the CD player was known to the public, Tsurushima visited Thorborg in their private home and along he brought an early prototype of a CD-player. Since this had been designed to be used in Japan, it could not be directly connected to European 220 Volt mains. Instead Knud hooked up a transformer from his sons model train and for the first time ever, outside of Japan, the sound from a CD was played.
Knud had a very high sense of justice and sense of what was right or wrong. He was sharp and his opinions were very strong and expressed clearly for nobody to misunderstand, also when it came to a discussion about politics or other matters where Knud had an opinion. He had thick skin, as we say - whatever happened around him, he was a survivor. Nobody can remember him ever being sick, he came to work every day.
As he became old, he mellowed a lot and opened up and when I (Claus Futtrup) worked with him (2007-2013), he had a fantastic personality, always positive, always willing to give in every way whatever he had to give. Nothing could shake him - maybe after being a teenager during World War II, working at Peerless in the ups and downs, nothing could surprise him anymore. He had so much energy and his willingness to be of use to others was essential for him, to feel good about what he was doing. He had such an incredible optimism and positive mental attitude to life in general.
When Peerless was moved to Karlslunde 1983 and later Tåstrup, Knud Thorborg moved with the company.
When computers entered his world, he embraced the new possibilities. Not least when in the early 90's he was shown how to work with spreadsheets, it became one of his primary tools. There would seem to be a spreadsheet for everything and Knud also dived into macro programming.
In 1995 the Danish loudspeaker industry joined their forces in a scientific program together with DTU (Danish Technical University) named the "LoDist" project. Within this scope Knud published scientific work together with Erling Sandermann Olsen.
Knud worked as R&D manager at Peerless for more than 20 years, until 1996 (at the age of 67) when it was passed on to Lars Elliot Nyegaard. Knud continued as Senior Acoustical Engineer at a time when most people would have chosen to retire, but Knud was not finished with loudspeakers.
In 1997, Peerless filed a patent, with Knud Thorborg as the inventor. This patent was filed in the Danish patent system March 19th, 1997, titled (I translate): "Magnet system, where to oppositely magnetized magnets contribute to a radial field in a common ring-shaped gap" and unfortunately eventually the patent wasn't issued due to prior art. Later the system was patented by Patrick Turnmire (Redrock Acoustics) and yet, based on evidence of prior art (from Peerless), he eventually decided to discontinue the patent.
I should say, although I say "Knud" - for many years at Peerless, he would be named "Thorborg" - initially it was normal in work places in Denmark to be named by your last name. Later it stuck, and although Knud expressed the desire to be named by his first name, like everybody else, people didn't change - even young Peerless engineers showed their respect and called Knud by his last name.
Around April 2000, a young acoustical engineer named Carsten Tinggaard Klaiber started working at Peerless. A few years later, around October 2003 he became Product Manager at Peerless, yet later again (March 2005) Chief Engineer. Knud and Carsten clicked like few people and Carsten became Knuds best friend. Even when Peerless eventually was closed down in Denmark and Carsten started his consulting business, Knud would visit Carsten on a weekly basis.
When Peerless was taken over by Vifa (to become DST), he continued.
At the beginning of the DST years, Peerless was modernized with computer network, etc. Prior to this, all file transfers were handled with floppy disks. Peerless was quite outdated at the time, suffering from years of bad economy.
During tough times at Peerless, one of the most successful speaker units would be the XLS subwoofer, later modified with an 8 mm aluminium ring to make room for longer excursion and renamed the XXLS subwoofer. This product was a new design, with a cast aluminium basket and modified in different ways for many customers it overall sold in large numbers. Being made as 10 and 12 inch speakers, it wasn't exactly low-cost, but it was value for money and made both a high turnover as well as good profit for Peerless for many years. It became one of the best in the market, a reference for other designs. Knud played a significant role in this speaker design and eventually when Scan-Speak embraced lower cost products with their Discovery line, the XXLS subwoofer design was adopted, only modified very slightly (a new basket was designed which eliminated the alu ring, the voice coil used a titanium former instead of glass fiber and visually a dust cap matching other Discovery products was applied).
When DST was taken over by Tymphany, he continued. In April 2006, Knud Thorborg had his 50'th anniversary with Peerless.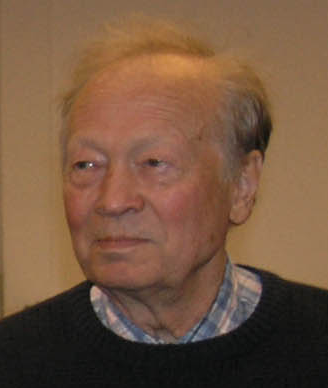 Picture of Knud Thorborg, at his 50th anniversary at Peerless, 2006.
May 2007, visiting AES in Vienna, he presented his paper "An Improved Electrical Equivalent Circuit Model for Dynamic Moving Coil Transducers" which became a turning point for Knud. He became passionate about working on loudspeaker theory, maybe something he had wished to do for many years, but in a busy workday, where turnover and profit were first priority, never had found the time and resources to do.
When Tymphany shut down their offices in Denmark, Scan-Speak decided to hire Knud Thorborg to continue his work, to be a help in any Peerless questions that may arise, and to work on the transducer model. His primary assignments were regarding research and writing AES papers.
Knud Thorborg was a lifetime member of the Audio Engineering Society (AES Life Member).
During the later years of his career, Knud Thorborg has participated in a number of AES papers in the journal as well as preprints.
Here's a complete list of scientific papers by Knud Thorborg.
Through his later years, Knud Thorborg used hearing aids and was quickly assigned a special deal with hearing aid companies in Denmark, who used his expertise to receive quality feedback on their hardware and software.
The last years at Scan-Speak, his work was supported by the company, which was very important to Knud. The company supported him to the very end and in fact he received his last paycheck the day before he died. Gradually over time, after his 67 year birthday, he was working less than full-time and at the end the salary was more of a sponsorship to support Knuds work and at the same time keep him involved in the loudspeaker industry.
In the years 2009-2013 at Scan-Speak I was his manager and together we inspired each other. I remember Knud once told me that he felt he was at the peak of his career. At the age of more than 80 years old I found that statement to underline his commitment to his work, a commitment that extended to understanding loudspeakers and bringing this to the world in general and a commitment to the Danish loudspeaker industry.
Knud Thorborg died on Tuesday 26th May, 2015, 86 years old. He battled aggressive cancer in his spinal cord for about one year. At first he had to use a rollator, and doctors said he was not going to recover - but against all odds, he was able to fight his way back, recover completely and even regain his driver's license. When the cancer came back, eventually (in particular the last week) his body gave up. He died very peacefully, was put to bed, and just didn't wake up the next morning. His mind was sharp to the very end.
Knud lived life to the fullest. He never stopped working and gave generously of his time, particularly in the dissemination of knowledge. He authored numerous technical papers, often published by the Audio Engineering Society. He taught two generations of Danish engineers how to develop/make transducers and speakers (in what we could call the east Danish style) and was very respected by his apprentices.
---