Return to index
Jan Erik Paus
Jan Paus was born 24. October 1942 in Østfold, Norway.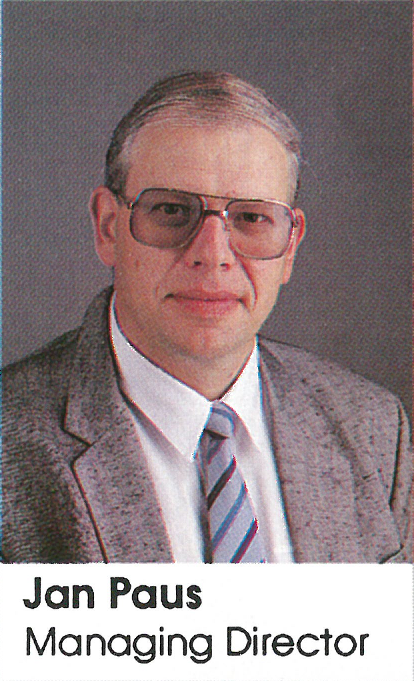 Picture of Jan Erik Paus, as Managing director of SEAS, around 1982.
He was interested in engineering and decided to become an engineer at a very early age, presumably four years old. His ambition was in construction engineering, building bridges and such.
The interest in sound and audio was passed from his father, who was an artist and technically interested. This meant Jan Paus was actively engaged in electricity and mechanics when he was 6-7 years old.
Paus decided to study at the NTH (nowadays NTNU) in Trondheim when he still had two years at the high school (Norwegian: "Gymnasium"), 17 years old. The choice of direction would be electro -- electronics (low current).
Jan Paus studied at NTNU (Norwegian University of Science and Technology) in Trondheim 1962-1967. After the initial two years he chose the direction of radio-technique. The last year specialized within electro acoustics.
He met his wife, Astrid, who was also from Østfold and studying pedagogical education in Trondheim. They married in 1965.
The Masters Degree would take a whole year, because at that time it was an option to partially study and partially work as a scientific assistant (vitass - vitenskapelig assistent). In the vitass job, which lasted one and a half year, Jan Paus met Bjørn Børja, who had chosen to take exactly the same education, just one year later.
Paus' diploma was finished spring 1967, with a thesis in Class D amplifiers. Available literature was sparse at the time. Only Clive Sinclair and Amar Bose had some material available on this. Paus built his own Class-D amplifier as part of the thesis and it was relatively powerful. Different modulators were tested, and a favorite was chosen. The amplifier had problems with electro-magnetic radiation/noise, which was not resolved at the time.
After the vitass job ended, Paus was hired by Sintef (a Norwegian organization/institute for industrial and technical research) at the end of 1967. In practice the job change meant little change, he stayed in the same office space and at the same desk.
Paus served in the Army throughout 1968, although this didn't leave any significant impact. Paus served in Sanitation Services, basically a desk job and he was able to live at his house in Trondheim during the mandatory service.
Jan and Astrid Paus had their first child, a daughter named Kristin, October 1968.
From January 1969, when Paus returned to his job at Sintef, and until he quit in August 1970, he developed monitor loudspeakers for NRK TV (Norwegian TV). He designed loudspeakers for reverberant rooms, which as far as we know are still in use. A controlled directivity speaker system for open air theatre was developed as well.
In June 1970, Paus was in Aarhus (Denmark) at Scanticon for a convention in audio. He remembers big names like Bang & Olufsen, Tandberg and DTH (now DTU) were there. There Paus met with Nørgaard Madsen, the manager at SEAS and Madsen asked "Shouldn't you come work for us?".
Paus decided to accept the offer and resigned from Sintef August 1970. Because of vacation days and other obligations meant that he started at SEAS 28. September 1970.
When Paus arrived at SEAS, Værftssgaten 10 in Moss, it was clear why Nørgaard Madsen had been looking to hire someone. Around him was a laboratory manager named Per Smith and a woman named Hege, who was a technical assistant (sketching technical drawings).
Below Nørgaard Madsen there was a trained Army officer, named Frydenlund, working as deputy manager. Paus remembers the uncomfortable feeling of this disciplinary man, who could look right through you, always ask the questions that would make you feel small. Frydenlund was also ranked above Magnus Nesdam-Madsen (production manager at the Danish site).
Prior to Paus' arrival at SEAS, Mogens Hvass and Ragnar Lian had left the company. Per Smith was hired from Skandinavisk Elektronikk and he did not have any loudspeaker background. Hege had experience and presumably worked with Lian and Hvass in the 60's.
Paus and Smith were working at the same level. Nørgaard Madsen knew this could not continue and had to make a choice. Jan Paus became the manager of the laboratory relatively quickly, in 1971. Per Smith continued at SEAS until 1975.
Prior to Jan Paus starting at SEAS, Mogens Hvass (a Danish engineer who had studied in Aarhus together with Nørgaard Madsen) had quit in 1969. What Jan Paus knows about the circumstances is that Nørgaard Madsen was maybe not fully respecting the work of Mogens Hvass and so he was not thriving at SEAS. At some point he had started working with Ejvind Skaaning at the firm of QSR. This was not known by Nørgaard Madsen at the beginning, but when detected it was considered a disloyal act and Hvass was required to leave his work within 15 minutes.
Ragnar Lian, who worked for SEAS from 1965 until spring 1970, was not pleased with the dismissal of Hvass. They had an excellent cooperation during their time at SEAS, where Hvass was a detail oriented, careful, precise and almost tending to pedantic person, who took care of the mechanical side, with tooling, etc. Lian on the other side was the creative force. Lian decided to leave the company in the spring of 1970 to join Ejvind Skaaning. This may have been around the time when Scan-Speak was founded (February 1970).
As such, Paus never experienced working together with these engineers, but the aftermath was clear. SEAS experienced major growth and had major success with several products developed prior to his arrival. One of them is the 1.5 inch dome, H087. Others of note were the 8 and 10 inch rubber-surround woofers. These products had been developed by Lian and Hvass and found their way into many popular products, like the Dynaco A-25, as well as products from B&O and Telefunken. Most noticeable is the almost-impossible solder joint in the H087 tweeter, where aluminium voice coil wire is joined with a copper tinsel wire. Lian found a way, where the parts were prepared with very acidic flux prior to soldering. H087 was developed in 1967 (maybe launched in 1968?).
Dynaco was the largest customer at the time. Transducers were manufactured in Moss, Norway. Cabinets were made at Lem Sengefabrik (later Lydig) in Denmark and assembled in Denmark. Magnus Nesdam-Madsen (herefrom just named Nesdam, which is what he preferred to be named) was production manager at the Danish site and responsible for organizing all the shipping and export.
Paus remembers that SEAS had a close relationship with other large customers such as radio and TV manufacturers in Finland, for example Salora. Nørgaard Madsen was a very creative person and he had designed a completely shielded AlNiCo magnet system, usable in TV's, which at the same time was easy to assemble. This particular design gave SEAS a leading edge in the market for TV speakers for many years. Together with Mogens Hvass they must have formed the R&D team at SEAS through the early 60's.
Another large customer was Bang & Olufsen in Denmark.
Paus remembers an agent in Sweden, Bo Knutson, who was very valuable for SEAS through many years. He was a key person in retrieving business with SONY as they remained a large customer for about 10 years, through the 70's.
Paus remembers his first meeting with Nesdam. He, the purchase manager at SEAS and Nørgaard Madsen had traveled to the Danish site, late in 1970, where they would meet at the office of Nesdam. They were served Tuborg beer by Nesdam, maybe in an attempt to flatter the Norwegians, maybe this was just a normal gesture at the time.
At the meeting in Nesdam's office, a person knocked on the door. No answer from Nesdam. The person knocked again. Nesdam replied "come in." Very humbly the worker had taken his clodhoppers (wooden shoes) off, came in bowing and asked if he could kindly be offered two platters for the turning lathe. Nesdam replied "you can have one." The employee thanked and bowed, left the room, walking backwards and closed the door behind him.
For Paus this first meeting gave him a bad impression. He wondered how can this be a work environment where people could thrive?
The first job at SEAS which was the focus for Jan Paus, was a change of design from AlNiCo to Ferrite magnets on woofers (cone loudspeakers in general). This also meant that new chassis had to be designed because the AlNiCo magnet systems had a topplate design with room for excursion, whereas the ferrite magnet systems had to be flat and the chassis therefore had to be made deeper to allow for excursion. Prior to Paus' redesigns, SEAS only had one Ferrite magnet speaker, an 18 x 12 cm broadband speaker, designed by Ragnar Lian for the B&O Beolit transistor radio.
The production of Dynaco A-25 gave SEAS a strong position and the ability to grow, hire Jan Paus, and so on. Early in the story of A-25, Paus remembers suddenly there was big trouble. This was early 1971. The grille had originally been designed as a frame made of wood staves. The four pieces on the outside + two pieces across, one between woofer and tweeter and another between the woofer and the acoustic valve, to stiffen the frame. For simplification, the grille frame had been changed to a piece of particle board, with a big hole cut out in the middle. Unfortunately, this was not dimensionally stable and humidity would make the grille cloth sag. This was already clearly visible when the products arrived in the US. SEAS had to solve this and shipped containers of grilles according to the original design for replacement.
On this trip, Paus met Ed Laurent, who was responsible for quality at Dynaco, and who had co-developed an ingeniously simple tube amplifier, the A-70.
Paus remembers that one of the times he met with David Hafler. Hafler had expressed a wish for a smaller speaker than the A-25. During this meeting, as it is appropriate to do business, the new design was sketched on the back side of a napkin, to become the Dynaco A-10 speaker. This speaker used a 17 cm woofer with a rubber surround, a design which Paus had just finished at SEAS, ready to be launched. Given the successful history of Dynaco, this opportunity almost guaranteed that the new 17 cm woofer would become among the most successful products, which Jan Paus was very happy with.
In 1972, Jan Paus hired Bjørn Børja, who in retrospect became one of the most important SEAS employees. SEAS experienced a high growth and the company developed in a fantastic way. Bjørn Børja had finished his education in 1967, done his military service in the marine and had started working at Tandberg Radiofabrikk (1969).
The job split between Paus and Børja was initially so that Paus would be responsible for woofers and Børja responsible for tweeters.
One of the products designed by Børja was a 1 inch dome tweeter, soon to be popular in many products. For example the Dynaco A-10 and A-25 would convert from a 1.5 inch to the new 1 inch dome tweeter.
Mechanical design engineer Terje Johansen was hired in 1973. He had started working at the end-of-line testing, although a trained engineer, so Paus picked him and he was transferred to the laboratory.
Jan and Astrid Paus had their second child, a son named Frode, 1973.
In 1973, the conflict between Nesdam and Frydenlund escalated. Frydenlund could see right through Nesdam and probably knew what he was up to, at least that he was not up to anything good. At this time Nørgaard Madsen already had some personal problems. Paus is not sure if the internal trouble was the initiator / cause of this. Nørgaard Madsen felt he was squeezed between Frydenlund and Nesdam, who didn't accept Frydenlund as his boss. Nørgaard Madsen had to lay off one of the two, and it was Frydenlund, who didn't have as strong a background in his job, whereas Nesdam was skilled and insistent as well. It left a strong impression on people in Moss, who afterwards also experienced the increasing influence of Nesdam. In retrospect, Nørgaard Madsen didn't have a choice.
Paus describes the period around 1968-1974 as a "Klondike" (gold rush) period, where SEAS experienced major growth and success. After the international oil crisis, SEAS continued to grow, but the rate was slower and the net profit smaller.
Nesdam was a power-hungry person. For Jan Paus it appears that the next target for Nesdam would be Nørgaard Madsen himself. To filter / shield himself a bit and probably also other people, Nørgaard Madsen hired Ole Skoge in 1973. He was made the new deputy manager of SEAS and also the manager for Nesdam. Skoge was an accountant, who lived in Bærum and therefore often came in late at 10 a.m. and left early at 2 p.m. This didn't work at all and Skoge eventually had to resign in 1977. The situation with Nørgaard Madsen and his personal problems progressively became worse, which also was noticed by Jan Wessel.
In 1974, Paus hired Tore Holmboe Wiik. He had the same education as Paus and Børja. He was very proficient in computer science and Paus remembers how Wiik convinced him to buy a Hewlett-Packard computer, which would print the results on a narrow strip of paper tape. It could plot curves, for example the transient response.
Wiik used the computer to design a series of woofers with foam surround, 21 cm, 25 cm and maybe 33 cm, which became quite popular. Wiik also designed the famous 11F-M (as a new product in a series where Jan Paus had earlier constructed the 10F-M). The 11F-M is, for example, famously known from some Snell products and eventually have become an evergreen product, still made today in a version named MCA12RC.
Around 1975, SEAS moved to new locations. The production came in January 1975, whereas the administration was moved in August 1975. To the surprise of many people at SEAS in Norway, the Danish site also had new facilities built. Ole Skoge had kept it a secret that a new factory was being built in Denmark at the same time.
For Nesdam, the Danish site was his child and of course if new facilities were built in Norway, the Danish site should be equal in every way. At this point the oil crisis in the 70's had started to affect all business and SEAS was not as profitable anymore. The time period of 1974-1980 was difficult for everybody in the European loudspeaker industry. It's typical for Nesdam that nothing was to be smaller or less good in Denmark.
Jan Wessel had a lawyer named Jens Christian Hauge, who initially had taken care to merge Tandberg with Radionette, whereby Jan Wessel had lost all his savings. Anyway Wessel must have felt that he was OK and Jens Christian Hauge was made chairman for SEAS. Unfortunately Madsen made acquaintance with Hauge and he convinced Hauge that he should come to Norway and become the General Manager for SEAS, 1977.
At the same time Nørgaard Madsen had to resign. He still owned half the stocks in SEAS and as such was still in the picture, until around 1980, but essentially without influence and not part of the daily management.
Many Danish employees (among them Møllgaard and Andersen) came to visit in Norway, and Norwegian employees traveled to Denmark as well, in an attempt to even out the differences. Peter Larsen came to visit and eventually establish an R&D department with equal capabilities in the Videbæk factory. Primarily, you could say that the Norwegian site made high-quality product and had excellent R&D facilities. The Danish site was to begin with just (primarily) a production site and focused on manufacturing of low-cost standard products.
Jan Paus was willing to cooperate, preferably without having Nesdam in the middle and preferably with direct communication. This was not easy and essentially not possible. Nesdam was everywhere and his ears everywhere. This was experienced by Paus as an extremely controlling nature of Nesdam.
For as long as Jan Paus cooperated, he experienced a time where working with Nesdam was OK, but it didn't last for long. Paus quickly realized that Nesdam's plan was to transfer know-how to Denmark and it came up relatively early that Nesdam had plans to move the production to Denmark as well.
As General Manager, Nesdam essentially worked out of Moss, but he was not popular among the staff, except for maybe a small group of people. He was extremely ambitious, with his own agenda and feared nothing to get to what he wanted. He would walk over dead bodies, if he had to.
Holmboe Wiik quit his job at SEAS in 1979 as a result of the entire cross fighting. The same for Børja, who stopped the 31. August 1979 and switched job to NRK. (Norwegian Broadcasting Corporation)
The resignations would be quite unusual, source a Norwegian magazine, "elektro" (8. January 1981):
"In today's difficult situation, it is with despair, I notice a continued unwillingness of the corporate management to improve and rationalize the production apparatus at SEAS - Moss, rationalizations that could be done with simple and inexpensive means. No less disappointing is it to register the lack of a forward-looking product policy and coherence, things that are disappointing contrast to the Chairman's assurances that everything be done to improve profitability at SEAS."
"It is sad to note that despite the fact that we produce some of the world's best speaker elements and should have the best opportunities to not only maintain our market share, but increase significantly, it seems there's no will to survive beyond the verbal level."
Around the summer of 1979, SEAS was financially quite far down and for sale. One of the companies that considered buying SEAS was Peerless (Denmark). Corny Petersen, Suskind (with the money) and a third person came to check out SEAS. On 19. September 1979 a press release announced the merger was close to an end. Jan Paus was in strong opposition to this sale and his interest in supporting the sale of SEAS very low. Jan Paus showed negative details about SEAS, among these the resignation of Børja and other not-so-good details about SEAS. This undermined the sales process and on the 10. November 1979, less than one week after the plans had seemed almost finalized, Peerless decided not to buy SEAS and pulled out.
Nesdam asked for a Chapter 11 arrangement (in Norwegian the legal term is named an accord). This would give SEAS some time, according to Nesdam. Lawyers and account managers were involved. This did cost SEAS some money, to no good. In the view of Jan Paus, this was carefully planned and deliberately executed by Nesdam, maybe to get back at the Norwegians. At the end SEAS had to accept a dividend of 80% and therefore pay 80% of their debt to creditors and then the company was made debt free. The last 20% was waived by the creditors.
According to Paus, the accord was an unnecessarily tough path. SEAS was able to pay almost all their debts, therefore the Chapter 11 had not been necessary to begin with. The cost of the Chapter 11 was larger than the 20% waived and so it left SEAS in a financially more unstable and weakened situation. At the same time it must have left a bad impression for customers and potential customers in the market.
Jan Wessel died in August 1980. His son Peter Wessel was interested in selling his stocks. Nesdam was interested in buying. At some point Nesdam acquired all stocks in SEAS.
The accord didn't solve any problems for SEAS, but rather created some new ones. Jens Christian Hauge left SEAS, in due time to not be involved in the dirty part to come and at the same time as Jan Wessel died. Instead the Supreme Court lawyer Knut Bjørge was hired to take over. He quickly became the buddy of Nesdam. This was an obvious consequence of the fact that Nesdam was the General Manager and if you wanted to accomplish anything with SEAS you would have to be acquainted with Nesdam. One would need Nesdam approval to be able to work with SEAS.
According to a Norwegian magazine, "elektro" (22. January 1981), Nørgaard Madsen sells his shares to Peter Wessel for a symbolic amount.
Jan Paus quit his job at SEAS, December 1980.
The R&D staff count at SEAS had originally been 7 employees, hereof 4 within electro-acoustics. At this point most of the R&D at SEAS in Norway had quit (hereof everybody related to acoustics) and also the sales manager. Furthermore, production manager at the Danish site and factory manager at the Danish site, Henning Møllgaard, quit their jobs in protest.
A consultant was hired to evaluate the value of the company. It was decided in a management board meeting that the value of the company was to be evaluated in two pieces, the Norwegian and the Danish piece. Whichever one had the stronger position to survive would continue, the other would have to close. After the analysis, it was decided by the board that the Norwegian site had to close and all production transferred to Denmark. For the Norwegian employees it seemed obvious that this would happen. Nesdam had dealt all the cards and orchestrated this process. It seemed like the accord primarily served the purpose to weaken SEAS and make a takeover easier for Nesdam.
The decision to close SEAS in Norway was made early 1981.
Unfortunately, there were some unexpected complications for Nesdam. As a foreigner in Norway he could not be approved to take over the shares of SEAS. He could not be accepted as the sole owner of SEAS by Norwegian authorities. This was Norwegian law at the time.
In Norway the employees are organized in a local (internal SEAS) union, which are joined by a union of workers in the area, which again are members of the national union organization (LO).
Jan Paus had together with two prominent employees; one was the foreman of the internal SEAS union (Liv Stensrud) and the next-foreman (Karin Gjerstad) and a lot of other people protested against closing SEAS. The SEAS story was in the news every day. Politicians would call Paus and Stensrud to find out what was right and wrong in the news and Paus didn't hesitate to say that they were run over by the top management. Nobody at SEAS understood why and nobody liked it. It was recommended that SEAS should continue as a company.
Another central person that Paus met in the strikes and protests were Gro Harlem Brundtland, who had become Prime Minister a few weeks earlier for the Social Democratic Party (Norwegian: Arbeiderpartiet). She stepped up and the closing of SEAS was overruled by the Norwegian authorities.
The management board at SEAS was forced to by the government ruling to change their decision. Following this, Nesdam made sure that SEAS of Norway had to take a loan of 1.3 million kroner in the Danish Ringkjøbing Bank. Presumably to have the finances to continue the business. This loan was given with a mortgage guarantee in the Danish part of the company. Jan Paus remembers the face of the Danish lawyer (Nebelong) when he left Moss with the shares in the Danish factory in his briefcase and a happy smile on his face. Nesdam moved back to Denmark during the spring of 1981.
Since Nesdam could not be approved as the new owner of SEAS, the owner was Peter Wessel. Jan Paus remembers Peter Wessel as not particularly interested in SEAS. Although Paus tried to engage Peter Wessel, he did not involve himself in SEAS and therefore Jan Paus, Liv Stensrud and Karin Gjerrstad looked for a new owner for ensuring the future of SEAS. They found John Bryhn, who was the owner and manager of "Aktuell Elektriske." This company bought SEAS from Wessel (and Nørgaard Madsen) for 530.000 NOK, taking over all obligations (including the 1.3 million loan to the Danish bank, which was well known to exist).
Thor Iversen was hired as General Manager. Per Bjørge as manager of the board, spring 1981. Iversen was a construction engineer, MSc. He came to SEAS, who was in dire need of some employees. There were only a couple of people working in the laboratory, several had quit. Terje Johansen was one of the employees who stayed at SEAS through the turmoil.
Paus remembers Knud Erik Olsen and Ørnulf Henriksen as two very creative and industrious employees working in the laboratory, who had left SEAS.
Iversen consulted previous employees, among them Ørnulf Henriksen, who said "if you shall have any chance of moving forward from here, then you need to get hold of Jan Paus." Jan Paus was hired back in middle March 1981, he was only gone for about 3-4 months. Paus became Technical Manager, under Iversen.
As a consequence of the political activities and the decisions that SEAS could not be closed, neither transferred to new ownership of Nesdam, the government was basically forced to fund SEAS with a considerable amount of capital. SEAS received 4 million kroner through the industry fund. On top a loan was taken out for 2 million kroner.
Iversen was only the manager in a very short period of time. Erling Nesbakken became the next manager at SEAS. He was at the same time managing another factory in the area, Jacobsen Elektro in Hoksund, located outside Drammen (south of Oslo). Paus experienced Nesbakken as a person who was easy to work with. He simplified a lot of procedures and routines and made SEAS more efficient.
Bjørn Børja was re-hired 12. May 1981, now as R&D Manager in the laboratory. Jan Paus was technical manager at SEAS and as such higher ranking, responsible for all technical aspects in SEAS (laboratory, production technique, quality control).
In the afternoon on the 20. August 1981 SEAS receives a Telex from Ringkjøbing Bank, which says that the bank assesses that the value of their mortgage is rapidly dropping and that SEAS is obligated to pay the mortgage within 24 hours.
Paus remembers that the next day at 12 o'clock the money has to be transferred to Denmark. Aktuell Elektronikk, the owner of SEAS, has the money, no problem there. Unfortunately, as it was experienced from the Norwegian side of the story, there are unforeseen complications with the wire transfer of the money. It takes more time than expected and the Norwegian bank is somehow not managing to handle the transfer. Hereafter the Danish bank sells the mortgage to:
Nebelong (lawyer)
Magnus Nesdam-Madsen
Ringkjøbing Bank
According to Danish law, there's a warrant to terminate a mortgage with short notice if the value is quickly dropping. SEAS protested as this was claimed without any proof and an enforcement court was established. (An enforcement court is able to quickly overturn such decisions).
Jan Paus remembers how the court was completely packed with employees from the Danish site, probably every employee was there. The judge felt the pressure, it was obvious, and he declared that he was not in a position to overturn what had happened by enforcement law, instead referencing a case of this magnitude to be treated in the normal court system (which is considerably slower and more expensive).
A Danish lawyer by the name Anders Cold was hired to overturn the separation of the Danish site from SEAS. Unfortunately SEAS felt this process lead to nowhere and Paus wonders if Anders Cold became acquainted with Nesdam, somehow. Paus remembers how Bryhn finally says "shit" and that was it, SEAS gave up on trying to retrieve the Danish site.
Bryhns vision was that SEAS should just produce, then he would sell (through his chain of electronics stores). This didn't work. In 1982 there were 120 employees at SEAS and the warehouse was eventually filled up with products that didn't sell.
November 1981, Nesbakken was laid off and John Bryhn puts himself in the seat as General Manager of SEAS. It is John Bryhns initial impression that it cannot be hard or complicated to run a production company like SEAS.
In January 1982, Jan Paus was at the CES show in Las Vegas. He remembers how he returned to SEAS and was called for a meeting the next day, still suffering from jet lag. The meeting was with John Bryhn and the SEAS accountant, Svein Brataas (still SEAS accountant today). Bryhn let Paus know that he was not happy with SEAS. It seemed that Paus had played a significant role in finding new investors (Bryhn), oversold it a bit, and everything was not a good as what had been offered, they felt.
Bryhn told Paus, it was now his turn to prove that SEAS was a good business and worthy enough to continue. Paus was asked to take over the daily management immediately. He asked for some time to think. Bryhn gave him until the next day. It was also somehow clear that if Paus was not interested in this job, he would be asked to leave SEAS. He did not sleep well that night. Next day he accepted the job as factory manager at SEAS, taking effect immediately, January 1982. John Bryhn became Chairman.
Aktuell Elektriske was a big chain of electronics stores, spread all over Norway. John Bryhn was a colorful and somewhat special person, many would consider difficult to work with, but for Paus he was OK, probably also given the circumstances and history. Most importantly Bryhn was righteous and fair.
One of the first tasks that Paus had to do, was to lay off 40 employees. The rest went on a long-time grant leave (Norwegian "permittere"). In Norwegian law, there's room to ask people to grant leave which means they don't work and they get social support from the government (only 60% of their normal salary). During such a time the employees are free to find another job and many did choose this.
At SEAS (now 100% Norwegian) Paus remembers how they thought that the Danish site would eventually fall short and presumably wouldn't make it through the transition phase.
Today we know it didn't happen. In some sort of miracle, Nesdam was able to turn the Danish site, now named Vifa, remarkably quickly into a profitable business. People at SEAS were very surprised.
It was well known that Vifa was sourcing parts from tools owned by SEAS and SEAS several times had to remind suppliers about the ownership of the tools. For example Paus remembers how SEAS blocked Vifa from buying chassis. People at SEAS had thought that Vifa would go bankrupt, but Nesdam was a gifted person, capable of managing a serious turnaround. In practice Vifa in Denmark recovered faster than SEAS in Norway.
The period of grant leave lasted more-or-less throughout the whole year of 1982. Very limited production was going on at SEAS and instead products on stock were sold out. SEAS had high loans and very low liquidity.
In 1982, SEAS has to sell the buildings to a real estate investor to raise capital to continue the business. It was not possible to borrow more money.
In 1983 SEAS made a profit and Jan Paus was given more freedom. Bryhn started to show more trust in Jan Paus. People came from "permittering" back to work at SEAS and people were hired. There were now around 60-70 employees.
In 1984 things had stabilized and, as agreed with the investor, Aktuell Elektronikk, SEAS would have to convert to an employee-owned company and pay back the raised capital to the investor. NEXUS was the Holding company created in 1985 to manage this change of ownership. Initially the employees became 10% owners of SEAS.
In 1986, with Jan Paus managing the details, SEAS employees bought the remaining 90% shares in SEAS through the newly formed company named AS NEXUS. Jan Paus becomes the managing director (CEO) of SEAS, a position he holds until the end of 2008, yet he remains in SEAS until the end of 2009. Paus became the head of NEXUS in 1985, a position he still has today (at the time of writing, summer 2014).
Through the 80's SEAS was in need of updating their product lines and a lot of development was executed. One of the product types that defines SEAS was the coaxial drive units, which was first launched in 1988.
Jan Paus remembers that SEAS filed for a patent, but through a news search they experience that KEF had filed a patent only a few months earlier. Paus has his first meeting with KEF in Las Vegas, later in the UK, to sort out the legalities. KEF has hired an American lawyer, Paus is just himself. The final agreement was that of the SEAS nett sales of coaxes, KEF shall receive 1% royalties, to be paid quarterly, which Paus feels is an acceptable agreement to SEAS that they can live with. At the same time for paying royalties, KEF shall supply knowledge (know-how) to SEAS. This knowledge was never transferred.
After some years, SEAS stopped paying the royalties to KEF, considering the royalty period to be over. The earliest KEF patent was at this point 17 years old (around 2005). There was no response from KEF and SEAS considered this an acceptance that the patent was no longer in effect.
One of the most important customers to SEAS during the 80's and 90's was JAMO, a Danish loudspeaker company, at some point one of the largest in the world (maybe the 4th - but since some companies do not just make loudspeakers, the exact ranking can be difficult to estimate accurately). They were an important customer in the rise of SEAS. Another important customer at the time was YAMAHA.
Jan Paus hires Olav Mellum Arntzen in 2000. He became the new R&D Manager in 2006 and later takes over as General Manager in January 2009.
January 2014 it was time for the NEXUS ownership to end and SEAS was purchased by Sonavox Canada. Many of the owners (though NEXUS) had retired. Only the present management at SEAS, continues ownership in the new organization, with 15% ownership.
---