Return to index
Bjørn Børja
Table of Contents
Stiklestad
Working at Tandberg

From AlNiCo to Ferrite
The laboratory
Dynaco
SONY
One inch dome tweeter, H086
Thiele/Small
New factory
About kits
Plastic dome tweeter
Tore Holmboe Wiik
Magnus Nesdam
3/4 inch dome tweeter
Quitting at SEAS
Other projects
Working at NRK

Cone diaphragms in plastic
Neodymium
Own manufactured dome diaphragms
Metal domes
Objective end-of-line inspection
Coax revisited
Magnesium cone speakers
About the Excel dome tweeters
New colleague in the United States
Fullrange drivers (Exotic)
Flashbacks
Bjørn Børja was born 31. October 1943 in Porsgrunn, Telemark, Norway. His father, Leif, was employed at Norsk Hydro (Porsgrunn).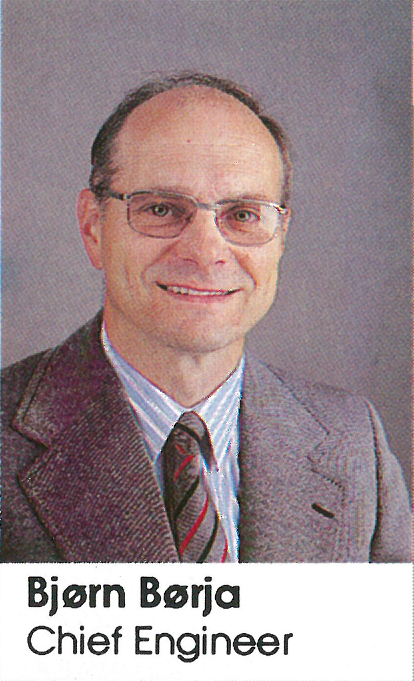 Picture of Bjørn Børja, as Chief Engineer of SEAS, around 1982.
Leif Børja started working for Tandberg in 1949, but before that he had worked in construction whereby his last construction job was making the new Tandberg headquarter on Kjelsås. Vebjørn Tandberg would, as it was his management philosophy, show up frequently to follow the work. During his visits he noticed Bjørn's father and when the construction was near its end, he offered him a job at Tandberg.
Leif Børja was experiencing some nerve pain in his legs from the work outside in the cold and although he had no qualifications to work with electronics, he accepted the job offer. It was one (of many) exceptional qualities of Vebjørn Tandberg that he would see the potential in people and even without the qualifications they would be trained and eventually become very skilled (and devoted) employees. Leif worked in the department of maintenance and carpentry.
Bjørn remembers from his childhood that his dad would bring various equipment home from the Tandberg factory. Apparently it was practiced at Tandberg that employees would be permitted to borrow (and/or buy) equipment. Some of the equipment would not even have been introduced on the market yet and would have been too expensive for working class families to buy on their own. As such Bjørn had contact with audio and TV gear from an early age.
Bjørn's family had their first tape recorder around 1952. Recording music off the radio was cheaper than buying records. Records would cost something like 2 kroner each at the time.
Tandberg had a special management style - management by walking around, which he practiced a lot. Also, there would be a lot of parties, like Spring Fest, Summer Fest, Harvest Fest and Christmas party. Family members were invited to participate. Vebjørn Tandberg never married, instead his factory and his employees would be a family to him. The Tandberg factory had its own Tambour Orchestra, choir and theatre group. Bjørn remembers the Christmas parties as being some very nice arrangements. Because of these types of employee perks, Bjørn had a positive impression of Tandberg from a very young age.
His mother, Margit (1919-2005), started working for Tandberg ca. 1955. She was very dexterous and became a specialist in winding coils for magnetic heads in tape recorders. The extremely thin copper wire could only be managed by people with very sensitive fingers and a good eyesight.
One day when he was 12-13 years old, he was sick and left alone at home while his parents went to work. That day Bjørn decided to take apart the family Tandberg tape recorder to see what it looked like on the inside. The machine was put back together and it worked, so it went without any scandal in the home.
Everything technical had his interest. In particular amplifiers, tape recorders and gramophones, while the radio technique was not so interesting.
Both Bjørn and his older brother, Svein Erik, were interested in music. They would often listen to Radio Lux (Luxembourg) over the Tandberg radio. His brother played in a band and eventually was known for his skills as well as earning a reputation as a golden ear.
One day, in 1957 Bjørn's father brought home a stereo. The equipment was a large piece of furniture with two sections at the bottom, three on top. In the middle was the Tandberg Sølvsuper 7 radio, an affordable product from Tandberg. On each side two loudspeakers. At the bottom was a room for the gramophone and tape recorder. The tape recorder was the model 5, an early stereo tape recorder from Tandberg. The family would borrow pre-recorded tapes from the US. Some of their favourites were rock'n roll music, like Elvis Presley and Bill Haley & His Comets, etc. All this was before stereo gramophones were common (for example the Ortofon SPU stereo pick-up was launched one year later, in 1958).
Bjørns younger brother, Morten, was born in 1961. He's also interested in music, which lies deep in the family roots. He is educated and works as a carpenter. Hereafter Bjørns mother decided to quit her job at Tandberg.
There was so much music in the family, in particular rock and pop music, that Bjørn to some extent became immune to it. His own preference became directed towards Jazz and Classical music.
Bjørn went to high school (realskole) 1957-1959, at Aars & Voss realskole in Olso.
Bjørn remembers around 1959 when his father had brought home a TV (black/white) before it was available to the public in Norway. He had to go onto the roof of their house and put up an antenna, so that the family could see anything on the TV, including broadcasts from Denmark and Sweden. Under rare circumstances (special atmospheric conditions) it was even possible for a moment to pick up TV signals from Italy.
Norwegian TV (NRK) officially aired in 1960 when TVs were not common at the time. Prior to this launch, only test signals were shown by NRK. It became very popular to visit the family. On his father's side there were 6 siblings and on his mother's side 5 siblings, and not many had a TV, so the family was extremely popular to visit. On Friday evenings, his mom would bake cakes for everybody.
Bjørn continued on to junior college (Norwegian: Gymnasium) at Aars & Voss in 1959-1961 and the term "Russ" is used in Norway for people who have passed the exams. Bjørn became Russ in 1962 and it was at the time a tradition to buy a car. (The word Russ is short for the Latin word: depositurus)
Bjørn bought a (30 year old) Ford Model-A, a two door model in this case, a so called "Russe-bil". He purchased the car from a colleague of his father for 400 kroner. It was a cheap and yet fully drivable car. The car was painted red, which signified that he had graduated from the gymnasium. For other types of schools the color would be for example blue.
The situation was that purchase of cars had been restricted in Norway after the war, but these restrictions had been lifted in 1960, so the market was quickly changing (and improving) in Norway at the time as people purchased for example Volkswagen Beetles and Ford Anglias and the old cars were sold cheap.
Bjørn sold the car one year later to his cousin, when he had finished his exams and became "Russ." His interest in old cars and in particular A-Fords would continue and be an influence for the rest of his life. Bjørn's cousin sold the Model A to another person, and eventually bought another one in 1966, which he has kept until this day today - keeping it in good shape without requiring a total renovation. The Norwegian Model-A club was founded in 1967 and although not founded by his cousin, he was a member from the very beginning.
Bjørn remembers that he and his father were talking with Vebjørn Tandberg at one of the Christmas parties. Tandberg asked Bjørn "what are you planning to do now" (after becoming Russ). Bjørn replied he didn't know for sure, Tandberg said "You should start at the technical high school (NTH)," because of Bjørns keen interest in tape recorders and sound. NTH is where Tandberg himself had studied to become an engineer. It was a gentle push in the right direction.
Before studying electrical engineering it was required to have one year of relevant practice. Bjørn chose (and was offered) practice at Tandberg. His job would be to assemble and solder TV circuit boards.
Tandberg's TVs and production facilities were relatively advanced at the time. Electrical circuits were built onto printed circuit boards. Tandberg had been one of the first to adopt this technique in Norway, using a wave soldering machine. This machine didn't work 100% so after each circuit board had been through the machine, workers would quality control it afterwards and do additional soldering as needed.
Bjørn was promoted and moved to trimming of the finished TVs. The TV would be turned on while the person adjusting the TV was standing behind it, looking into a mirror and a mask / grid. The size of the picture was adjusted in height and width and the ovality / edge distortion minimized. The voltage on the cathode was about 16.000 Volt. The voltage of the devices to turn to adjust the picture was about 800 Volt and Bjørn remembers if the insulation around it wasn't perfect, then it would occur that the operators would accidentally get zapped.
He moved to Trondheim to study in 1963. The inaugural two years went with mathematics, chemistry and similar fundamentals. This was entirely theoretical work and Bjørn focused on his studies - to collect credits and receive good grades.
The third year began to include more practical elements and Bjørn became attached to the Institute of Acoustics. The assignments had to be done with small thesis reports. Bjørn chose an assignment on gramophone technique - where is it today, where did it come from and how did it change over time.
Later on, a study of non-linear distortion was the topic. Bjørn understood non-linear distortion and that harmonic versus intermodulation distortion were two ways to picture the same problem (i.e. generally speaking non-linear distortion). This fundamental understanding became very important for the future work on high quality audio.
Throughout the third and in particular the fourth year, it became clearer that Bjørn would specialize in loudspeakers. What peaked his interest would be to make as good sound as possible, to minimize distortion, to understand what would be the limitations, understand the underlying mechanisms and circumvent these.
In parallel with his final dissertation, about Doppler distortion in loudspeakers, Bjørn took the job as a scientific assistant (Norwegian: Vitenskapelig assistent, vitass) where one helps the professors with practical work, assist in the education of other students, etc. Bjørn spent more time than normal to complete his diploma and work as vitass in parallel.
Stiklestad: In the summer of 1967, when Jan Paus was working as vitass at NTH and Bjørn was studying at NTH, they were ordered by institute manager, Asbjørn Krokstad, to collect all the gear necessary for an open air theatre in Stiklestad. The annual event had been a tradition since 1954 and Krokstad was from this area, so he felt strongly about this and was responsible for the sound system through a long period of time.
They drove to the location a bit northeast of Trondheim and Krokstad had a sketch / a plan. Together they put up the equipment and when done, Børja asked Krokstad who was supposed to manage all this during the theatre show? Krokstad answered; "You are", got in his car and drove home to Trondheim, leaving Paus and Børja to organize the details in one day. The show was repeated something like 4 out of 6 days and Paus & Børja had to be stationed in the Stiklestad area during this period of time. It was the type of challenge, that cast a friendship for life.
Paus, and to a lesser degree Børja, would repeatedly show up for several years to follow, also after Børja started working for Tandberg. The cooperation was very good, without the need for many words they would put together and run the sound system.
Børja worked on Stiklestad 1967-68 and in 1969 just visited while Jan Paus was still working on the stage project.
Bjørn served in the military from January 1969 until Spring 1970, almost 18 months total.
Bjørn married to his wife Marit in October 1969. She's from Trondheim. The couple rented a small house east of Trondheim from the time they married and until April 1970. During this part of the military service, Bjørn was supposed to materialize some military projects with NTH (today NTNU). In practice Bjørn asked several times for instructions, but none appeared. Instead, he used his time studying transistor technology, including noise. Bjørn designed a balanced input microphone preamplifier, to be used with dynamic microphones, but without a transformer (it was typical to use a basic transformer as the first step from a microphone to increase the voltage and regulate the impedance). He also passed the time studying loudspeaker and sound technology in general.
Working at Tandberg: A few months short of the normal time spent in the military, Tandberg asked Bjørn to start working for the company. He asked his contacts in the military if it was OK and they accepted. This way Bjørn was released from his military service a couple of months ahead of time.
Bjørn Børja started working in the electro-acoustic department Tandberg. This department worked with microphones, loudspeakers and language-lab (Børja was not involved in the last part) and managed by Fridtjof Brodtkorb. This was at the headquarters on Kjelsås near Maridalsvannet - a lake north of Oslo. In the area, you can see road names like "Radioveien" (Radio Road) and "Lytterveien" (Listeners Way). Nearby (in Kjelsås), is today located the Norwegian Museum of Science and Technology. No doubt that Tandberg has left a significant impact on this area (and Norway in general).
(P.S. The publisher of these web pages believes "Lytterveien" should be translated to Capacitor Road)
The story goes that Vebjørn Tandberg found this particular spot by travelling around the Oslo area on his bicycle and carefully investigating which spot would be suitable, also with the possibility for future expansion, etc.
Børja was also passed on the task to educate a number of workers in acoustics. The most interesting work was joining a group that developed a new range of loudspeaker cabinets, the TL series, which included two models with dome tweeters, a Tandberg first.
Børja's first child, a daughter named Mette, was born July 1970. He and his family were living in Oslo at the time and the space was very tight. Already at this time, finding a place to live in Oslo wasn't easy. Either it was too small or excessively expensive. Back then there were also traffic issues in Oslo. Tandberg found an apartment for the young family, but it was on a sublease, meaning it was unknown how long they could stay. It was also not possible, due to the cost of housing, to save up enough money to be able to purchase a home.
Børja started working at Tandberg in the Summer 1970 and he remembers some technical problems. The tape recorders may have had a good reputation, but at the time too many were returned with defects. At times it would reach a critical point, with up to about 20% at worst case. The concept was with a single motor and some belt drives to pull both wheels on the tape recorder with some friction clutches (since both wheels were not to rotate at the same speed). This gave some noise and Børja's job was to quantify the noise problem in the laboratory. He worked for Tandberg for just about 1.5 years.
Børja attended the Funkausstellung in Berlin, where he met Jan Paus and other parties at SEAS. Jan Paus is one year older than Børja but they knew each other very well - and Paus promised he would come back to him with a job offer.
Børja starts working at SEAS
When Børja received the offer for a job at SEAS, it didn't take long to accept. It also didn't take long to move to Moss, where a newly renovated and decent size apartment was affordable.
Børja explains: I came to Moss and was employed by the SEAS laboratory in February 1972. Marit and our daughter Mette (18 months old) and I moved into an apartment which SEAS owned at Framnes. Wonderful scenery and nature, a good environment for raising children and a short distance to work, shops, etc. were among the reasons why we enjoyed this place from the first day.
At first, Paus was responsible for woofers and Børja was made responsible for tweeters. His first assignment was designing a new 1-inch dome tweeter. We will come back to this later.
From AlNiCo to Ferrite: Efforts to replace the increasingly costly steel magnets were barely started. Ragnar Lian had ensured that an 18x12 cm broadband element (18/12 F-LG) had been fitted with ferrite magnet and thus become so "thin" that it would fit into the new Bang & Olufsen Beolit 1000 (Type 1401) travel radio designed by Jacob Jensen, launched in 1969, and Jan Paus had designed a new 17 cm driver with a ferrite magnet. But there were many other systems that had to be made, and it was necessary to prioritize properly. Ragnar Lians recent constructions, 21TV-EW and especially 25TV-EW were very popular and the 25 was taken first. The original chassis was too shallow and flimsy for the magnet systems we planned to introduce. Furthermore, the mold tool was ripe for replacement.
So we started by creating a new chassis which also had room for a larger spider. It would prove that a "standard" ferrite system with a straight pole piece did not make the cut. I remember that we compared the Dynaco A25 standard driver with a version of the new woofer with a straight pole piece in a ferrite magnet system. We listened to the opening sequence of "Also Sprach Zarathustra" where a trumpet soars over a deep organ note. The disappointment was great when we found that the new version completely fell through because of intermodulation! It was clear that Lians construction had included qualities that we were not aware of. We did a lot of work to measure and analyze the two systems, and eventually it became clear that Lians system had much better symmetry in both force factor and voice coil inductivity. Our solution was to undercut the pole piece so that the magnetic stray field in front and underneath the air gap was roughly equal. After we also ensured to make the spider stiffness more progressive (by creating shallower rolls) we finally arrived at an acceptable result. The last measure ensured stability in coil position. The force factor is basically nonlinear and it calls for a progressive stiffness in the suspension to ensure stability. The rubber surround was so soft, wide and high that it gave small and almost constant stiffness within +/- 10 mm excursion. The learning curve was steep, but everyone who participated in this work was gifted with valuable experience. In retrospect, it was also fun to use our "T-polepiece" many years before JBL invented this method.
As ferrite magnets were introduced in prestige JBL speakers, there were many who heard differences between the former and new versions, and always the AlNiCo versions came out best. It was spoken about ferrite sound and AlNiCo sound. Although I suppose it was about other differences, e.g. such as we had uncovered between 25TV-EW and 25F-EW, which is what the replacement unit was baptized. Besides, there was a clear advantage with the ferrite magnet system. In some cases where 25TV-EW had been used together with large power amplifiers, we could identify a demagnetization of up to 3 dB! The Ferrite version showed no measurable demagnetization under the same conditions. It is clear that an AlNiCo magnet that sits just beneath the pole piece located inside a 14 mm long, 4-layer coil is relatively easy to demagnetize with large coil currents. This applied not only to our own speakers. One day we received a visit from a customer who found that his 12-inch JBL woofer had become sloppy. We measured the on-axis response, magnetized the woofer and measured again. This time sensitivity was 2.5 dB higher!
About Per and Kurt Stølen: Per was responsible for the workshop, Kurt was responsible for the assembly of complete cabinets. Kurt Stølen worked 42 years at SEAS from 21. October 1957 and until 31. December 1999. They had the skill to solve problems with practical solutions. Besides, they had a magnificent network in the town and the area around Moss, not least established through their interest in football.
The laboratory: In 1972 when SEAS was located in Værftsgate 10 in premises that were far from ideal, but production went at full speed. It was good times of high demand and good profitability. The laboratory was located upstairs and contained a small anechoic chamber. Børja received an office desk in the corner of a large hall across the hall to the lab. Initially, the work was led by Per Smith, who had a background in Skandinavisk Elektriske but soon gave Jan Paus responsibility for developing the staff and operation of the laboratory as well as technical assistance to production, customers, sales and purchasing. He had the ability to get people to thrive, and collaborate effectively. The distribution of tasks was governed by knowledge, skill and capacity among employees and not by hierarchical considerations.
Dynaco: When Børja came to SEAS, Dynaco was a very important customer. The firm was founded and was owned by David Hafler, producing Hi-Fi and Stereo Electronics, both kits and finished goods. The Dynaco products were very popular and were very often combined with speakers from Acoustic Research (AR), which was a specialized speaker manufacturer. At one point AR launched an amplifier, and thus broke an unwritten agreement between these two firms. Hafler responded by collaborating with SEAS on the development of a speaker which in the spirit of the company should be of high quality, at an affordable price. Hafler and Lian quickly arrived at a construction based on 25TV-EW and H087 in a 25 liter cabinet equipped with an acoustic valve which gave controlled bass and favorable impedance. The crossover was an RC network in front of the H087 tweeter, while the 25TV-EW had a built-in roll-off because of the heavy and high inductance 4-layer coil. Some extra resistors and a switch constituted a 5-position attenuator for treble regulation. The cabinet was solid and well dampened inside with stone wool. On the outside it was covered with real walnut veneer. The front grille was a frame covered with a light linen fabric (not unlike what AR used on their products). Børja seem to remember that a speaker would cost 80 USD over the counter. It was not long before the sale was well underway. And when the product received the tag "Best Buy" in Consumers Report, demand became enormous. Rumors said that the management of AR regretted that they had launched an amplifier, which ironically was practically a flop. Speaker elements were sent from Moss to Videbæk, where the cabinets that came from suppliers in Denmark, were equipped with attenuator / crossover / wires. After mounting the drive units and being tested, the cabinets were packed and stowed in large containers. In the most hectic period one container went to the United States every week. We have estimated that SEAS overall may have sent between 700 and 900 000 pcs of A25 to Dynaco, i.e. an outstanding success.
Around 1973 a Swede appeared in Moss, Krister Amnéus, and claimed royalties for the acoustic valve which he claimed was his invention. I contacted Ragnar Lian and asked how this was related. Lian recommended me to search the old patents, and promised himself to look into the matter. We found three different patents that were relevant. One of them, by Scheldorf in the US from around 1930, was directly crushing and ensured that Mr. Amneus did not receive a penny from SEAS.
Scan-Speak was a competitor who would compete with SEAS and also sold a lot of products, labelled Dynaco A25. Ragnar Lian had switched to Scan-Speak in 1970.
In addition to the A25, SEAS produced the A50 which contained two pieces of the 25TV-EW and the A10 which Jan Paus had developed around 17TV-GW and the H087 tweeter. Those designs were also equipped with acoustic valve. (The A10 was originally conceived as a rear speaker in a Dynaco 4 channel system, but never came close to the A25 numerically.)
SONY: When I came to SEAS, another important customer was SONY, who as opposed to Dynaco was serviced from Moss. Cabinets for a variety of models were produced by Bagn Møbelindustri in Valdres and sent to Moss. Here the enclosures were equipped with a crossover and drivers, checked and packed in SONY packaging. Then they were sent to SONY's central warehouse in Belgium. The enclosures were well designed, with some clever details, and held a high standard. It was evident that SONY had confidence in our ability to construct crossovers and choose drivers that gave a sound that appealed to European customers. In a couple of innings we had week-long visits by engineers who tried to understand our way of working. These were interesting visits that gave us insight into the way the Japanese work, not least how complicated and hierarchical their decision process was. Sometimes we were very frustrated of their time consuming path to a decision. In one area the people from SONY were particularly skilled and taught us an important lesson, namely cosmetics. It was not enough that an adhesion was technically perfect and durable, it should also look nice. The same applied to surface finish, both of membranes, chassis and magnet system parts. For example, the lead wires from the coil had to be sewn through the speaker cone and secured / sealed with glue. Here SONY specified position, size and appearance of the glue dots. At times we thought, not least the production workers, the customer went too far, but we realized that this part of the quality would be important in the future, so we strived to satisfy the customer. This proved to be a wise decision. Eventually SONY bought the German firm Wega and took over the cabinet production themselves. But they continued to use our drivers, and maintained the good connection to SEAS. SONY used our 1-inch dome tweeter in large numbers and was an important driving force to initiate the production of our 3/4 inch dome, albeit with a customer specified chassis.
When Børja was hired, the jobs in the lab initially were split so that the woofers were the responsibility of Jan Paus, whereas tweeters became the responsibility of Børja (although not enforced as a solid split). One of Børja's earliest assignments was to create a one inch dome tweeter, which became the H086, launched in 1973.
One inch dome tweeter, H086: Early it became clear that the H087, SEAS' 1 1/2 inch dome tweeter needed modernization. H087 was a great success that had found its way into several big selling quality speakers from Dynaco, B&O, etc. The primary problem with H087 was low dispersion of the highest frequencies, on-axis response dropping above 10 kHz and costly AlNiCo magnet and magnet system parts. The company requested me to propose a solution, and after a few attempts and calculations, I put forward a sketch on a 1-inch edition with a ferrite magnet but otherwise based on the same membrane and coil technology as H087. Heco and Braun et. al. were already on the market with such products, so we were not lacking ideas and inspiration.
Dr. Kurt Müller (DKM) was contacted and a tool for a membrane design was ordered. We chose a parabolic profile on the dome and 4 mounting holes for M4 screws, attaching a 2mm aluminium chassis to the magnet system top plate. Stamping tools for chassis and dome grille and winding tools for the coil were initiated at SEAS. We chose the same chassis diameter as H087, but with only 4 screw holes. We experienced early on that DKM worked slowly and elaborately. We sent drawings there, received drawings back, details were discussed and corrected and formally approved before we could add a final order. Then we were told that there was a queue at the toolmaker. In short, time passed, and we were impatient.
Summer 1973 we had a daughter who was baptized Beate. Eventually we needed a larger place. The marketing manager at SEAS, Bjørn Erik Dalaasen, had a similar situation, and we went together on a project that resulted in that we got built a two-family house in Øreåsen (vertical split). During the construction period, we received daughter number three, Maria. We moved into the house during the summer of 1977. Marit and I still live there today.
Balfour Darwins in Sheffield (UK) had been a supplier of AlNiCo magnets to SEAS for many years. They offered to produce assembled magnet systems for the 1-inch dome, which received the product number H086 (which for unknown reasons was not already adopted). The system was based on a barium-ferrite magnet which would become a regular in the speaker industry: ø72 x ø32 x 15 mm. The top plate was quenched conventionally, but the hole for the coil which included a 30 degree chamfer was machined to achieve the necessary precision. The screw holes were threaded M4. The bottom plate with pole piece were respectively quenched, turned and finally riveted together.
After many months we could produce the first batch of tweeters. We experienced immediately that coating of the dome and the surround was more critical than for the H087 because of the smaller dimensions. Further, the centering of the voice coil with the chassis was more demanding. But gradually the production began to run fairly well, and samples were sent to interested clients, among them B&O. At the time, the on-axis response was not measured in production, only a listening test with sine sweep was conducted. But random samples at the lab told that the variation was similar to H087. Skilled production workers received feedback from the lab, and eventually managed to reduce variations to a lower level. The main problem was now coil misalignment that had to be improved. The solution was stumblingly near when Balfour Darwins meanwhile had established a fine punching press with a tool for SEAS' top plate. The point of this was to produce top plates in a more profitable manner. The first tests revealed that the precision of the top plate was dramatically improved and that the perimeter was concentric to the coil hole within 0,02mm! When it turned out that these narrow tolerances would be possible in mass production, we glimpsed possibilities to force-align the coil in the top plate if the chassis was fitted with a control wreath that corresponded with the top plate outer edge. Skilled people in the SEAS workshop solved the task in record time. New tools that would place the coil/dome exactly at the center of the chassis control wreath were made. Thus the production of H086 ran smoothly, so the demand, which in the meantime had reached an interesting level could be covered. (This was an example of good cooperation between lab and workshop, which lasted and was further developed through the years. I believe this was an important prerequisite for SEAS' ability to bring new and interesting products to market.)
The coils were wound by skilled women with sharp vision on Aumann winding machines. Enameled aluminium wire was wrapped with adhesive on a paper coil former. The coil was transferred to a mandrel where it was left to dry. Thereafter thread ends cut and twisted together with a lead wire of thin copper wires. Then the joints were dipped in an aggressive flux to remove the enamel and impurities into a small melting pot with a special solder held at a carefully controlled temperature. The ends were then dipped a second time in flux and then again in the solder. After a defined cooling period the joint was dipped in a lacquer that would seal the solder point and prevent later corrosion. I have described the procedure detailed to emphasize that coil production was pricey. Reducing costs would prove to be very important later.
Thiele/Small: When the AES papers by Richard Small showed up, Børja remembers this was a smart way to work with transducers and box alignments. Customers were asking from east to west for these parameters and SEAS had to establish their techniques and how to handle it. This was done in a very pragmatic way. The T/S parameters were listed in the catalogue of drivers in a large table. The suggested method by adding a mass didn't seem safe because many (light paper) cones at the time were not strong enough to fix the added mass. Instead, speakers were cut apart with approximately half the surround, half the spider and half the lead wires and weighed on a precision scale. The air load was calculated and added to the mass. The resonance frequency was measured and the compliance derived. The force factor was measured by placing the speaker horizontally and the tip of a steel pin positioned on top of the dust cap. A mass was added and a current fed through the voice coil until the dust cap was touching the steel tip again. This method seemed at the time to provide a robust (fail proof) and consistent result. Børja is a hands-on guy and he did much of the measurement himself.
New factory: I had not been long in Moss before there was talk about obtaining more suitable premises for SEAS. Production was spread over three floors connected by elevators, stairs and corridors. Number of employees in Moss must have been up towards 250. At the same time the company was now very profitable, so it was natural to consider new premises. SEAS had also hired its third engineer with a master's degree: Tore Holmboe Wiik. He had good knowledge among other in the design of speaker cabinets and the use of computers in design and calculation. The company wanted to invest in product development, design and support, and had the willingness to invest in a laboratory with an anechoic chamber, reverberation chamber and listening room. I was asked if I would participate in the building committee with plans, advice and deed associated with the laboratory. I thanked obviously yes to such an interesting task. At that time there was in Norway a large anechoic chamber at the Acoustic Laboratory, at NTH, as well as a small room at the National Hospital Audiological department. I had good contacts within NTH, and received a lot of help from there. After a tender process the contract for equipment and furnishings of sonic spaces went to the firm Grünzweig & Hartmann in Ludwigshafen. The cooperation with this firm as well as the architect and other involved went very well. The anechoic chamber was created as a cast and bricked "box" standing on springs to dampen vibrations and noise from outside. Inside wires were stretched and braided between walls to act as an anechoic walking surface. Walls, floors and ceilings were covered with 1 meter long wedges of Rockwool. In total the room filled three stories in height and the space within wedge tips was about 200 m3. During 1974 the manufacturing section was ready, and the move happened during December. The administration and Lab building was furnished in the spring / early summer with occupancy in August 1975. By then SEAS had seemingly good opportunities for a promising future. But in the meantime the world had experienced an oil crisis that led to declining demand and increased costs. Simultaneously SEAS' subsidiary in Videbæk had expanded its buildings considerably. On top of it all the management problems in SEAS had evolved into a crisis. This would lead to dramatic changes for SEAS and the employees.
Eventually the other cone speakers were modified accordingly from AlNiCo to Ferrite, and in many cases new technologies were brought in. Holmboe Wiik was hired in 1974 and Børja remembers that he was a very creative person and responsible for a number of important products.
About kits: Many young (and older) men have built speakers using SEAS kits. People I've met over the years mention the kits as soon as they hear that I work with speakers. When I came to SEAS the Type 30 and Type 60 were popular. Type 30 was a simplified version of Dynaco A25, while Type 60 was fitted with drivers as the Dynaco A50 but with an extra 15x10 cm midrange. In addition to this came kit versions of two popular finished cabinets, 72k and 74k. After a few years we felt the need to modernize and we developed the types 203, 302, 303, 503 and the Disco Kit.
Later on as the new speaker units with foam surrounds were developed, new versions 223, 253, 403, 603 and Disco 47 took over. The enclosures were flat packed with sides of veneered chipboard. With a little skill and a plastic bottle of wood glue, it was easy to put together a cabinet with professional appearance. In the early 80s, SEAS launched Helium, Neon, Argon and Krypton kits where the enclosures consisted of MDF which moreover could be delivered fully assembled and painted. In recent years, the market for complete kits has been reduced considerably. Instead SEAS published concepts where speaker units, cabinet- and crossover drawings are available and much is left to the individual. People like Joe D'Appolito, Murray Zeligman and Siegfried Linkwitz have suggested appropriate designs. Finally, it must be noted that Bjørn M. Idland and others have developed a number of brilliant designs that are posted on SEAS's websites.
Plastic dome tweeter: The contact with DKM also had positive aspects. During a meeting in Krefeld the development manager Fritz Busch fished up his drawer a 1-inch dome diaphragm made from polyamide foil made with vacuum forming. I discerned immediately an opportunity to escape coating the domes and expressed the desire for samples. Busch made it clear that tools had to be made etc. and that it would require some money and time. Back home, I had a new membrane drawn, this time as a spherical dome and lower than our textile dome. We eventually received the dome samples, but the procedure was, if possible, even more elaborate than the last time. Polyamide proved difficult to bond, but Busch tipped us about cyanoacrylate and soon SEAS engaged with Loctite and other vendors. Clever people in the lab collaborated with suppliers and soon found some effective activators and suitable adhesives. Unfortunately, we experienced that "blooming," a cosmetic problem, was difficult to avoid, but we had confidence that we would find solutions. With the new membrane we figured that we would be able to produce 1-inch dome tweeters with higher sensitivity, smoother response curves and tighter tolerances because the coating could be omitted. This became the first polyamide dome tweeter from SEAS, H098, launched in 1975.
Could we simplify coil production? The Aluminium coil had a winding height of 3.5 mm while the gap height in the magnet system was 2.5 mm. We experimented with a copper coil with 1.5mm winding height in a gap of 2 mm. With the same coil resistance as before, the thread thickness was much less as the diameter of the hole of the coil could be reduced accordingly. With a favorable choice of copper quality the coil magnet wire could function as lead wire. All in all we came out with the benefits mentioned above, plus the front grille now could be eliminated, as well as cheaper coils into the bargain, which could be wound automatically. Admittedly we had to change to aluminium coil bobbins that had to be rolled to approximately circular shape to ensure adequate cylindrical coils. The thin copper wire had significantly less bending stiffness than the aluminium wire. In H086, the flexible lead wires passed through the roll surround immediately outside the bobbin up in an arc across the roll and onto the chassis front side out to the terminals. With the copper coils, threads were led tangentially and with a little slack from the bobbin and over the roll surround to the back side of the chassis. This made the product more stylish and less vulnerable. The product was named H107, and was immediately noticed as a cosmetic improvement.
This development led eventually to SEAS investing in several automatic winding machines for voice coils and one for crossover coils. The manual winding of the coils for dome tweeters ended, and thus also the environment hostile fluxes disappeared.
Later it turned out that the dome material had a disadvantage that could be annoying in northern markets where humidity indoors can be low during the winter due to interior heating. Polyamide absorbs moisture from the air. During winter the moisture level in the polyamide can be very low and then the membrane becomes stiffer and has lower mechanical losses. The result can be a measurable and in extreme cases audible change of the frequency response above 10 kHz.
Tore Holmboe Wiik: DKM and eventually other vendors offered surrounds made out of foam. DKM used the same tools they produced rubber surrounds, but instead of feeding them with uncured rubber, a "sheet" of foam was placed into the mold. By varying the thickness of the sheet or the porosity of the material, the weight of the surrounds and the mechanical properties could be adjusted within certain limits. Tore Holmboe Wiik realized the benefits, and through experiments found surround qualities which matched optimally to the membrane and coil mass. Thus arose 21F-GWB, 21F-WB and -X, 25F-WB and -X, etc. (launched 1978). Besides having good sensitivity, these exceled with smooth frequency response and excellent dynamic properties. Tore Holmboe Wiik worked extensively with bass reflex enclosures and experienced a phenomenon where the woofer cone rendered large and thus uncontrolled fluctuation below the Helmholtz resonance. He pinpointed a remedy in the form of short-circuiting rings placed on the bobbin at the coil ends. A simplified version received a longer coil where the outermost approximately 2 mm were shorted through a milling and soldering operation. He named the invention Dynamic Damping (DD), and SEAS received a patent for it in many countries (first in Norway, 1978). 21 and 25F WBX-DD were among the first speaker elements based on the patent. These products were well received in the market.
Tore Holmboe Wiik also made a nice effort in the area of sound in cars. He charted the acoustic environment of typical passenger cars, and calculated optimal speaker response. For Clarion in Sweden he developed 11F and 13F broadband elements (1978). An 11F with magnetic shielding was developed for SAAB in Sweden. These units were also utilizing foam surrounds.
Another two important units were developed by Tore Holmboe Wiik in the 70s: 11F-M and 11F-GX. 11F-M (launched 1978) was a very good midrange driver with smooth frequency response, good sensitivity and low self-noise. The foam surround was adapted to the cone / coil optimally, and an open, lightweight fabric dust cap covered the center. The surround, membrane and dust cap were coated with a damping material. A ventilation hole in the pole piece eliminated pumping effects that could have resulted in noise. 11F-GX was a Mini Woofer which was able to provide an impressive bass response in a small bass reflex cabinet. It had a rubber surround and a coil that was wound asymmetrically so that the force factor was almost symmetrical. With a huge magnet (in relation to the item) and a pole piece with 1-inch diameter, a T-shaped pole piece would have reduced the magnetic flux in the gap dramatically, so this was no solution and hence arose the idea with the asymmetrically wound voice coil. Several other impressive and small loudspeakers were developed together with SEAS' customers based on this speaker unit. Initially, a standard steel chassis was used, but soon a molding tool for casting was made allowing high quality 11 cm elements to be offered. For this chassis to be adapted to as small cabinet fronts as possible, it was given an outer edge shape of a "super-circle" derived from the Piet Hein Super ellipsis. This "theft" received no negative consequences, thankfully.
Tore Holmboe Wiik also had a good grip on the design of enclosures. For example, he helped a customer in the United States / France to take up a whole series of enclosures called Transflex, a cross between a short transmission line and a bass reflex enclosure. Even crossovers were developed. Tore Holmboe Wiik ensured that SEAS acquired a fairly large Hewlett Packard tabletop calculating machine, and within a short time the machine became useful in many different areas of development work in the lab.
Both Jan Paus and I visited Dynaco several times and became acquainted with several employees there, first and foremost Ed Laurent, who had been employed by Hafler "the entire time" and stood for several of the tube amplifiers which had made Dynaco famous. When we met him, he had the responsibility for Dynaco product quality. We did see an area of the warehouse where several hundred speakers were trapped behind "Red Tape". Ed Laurent let it leak out that this was a series of A25 copies produced by United Loudspeakers, which Ed Laurent would not approve because the quality was not up to standard. He said that if these were released for sale, it would be "over my dead body."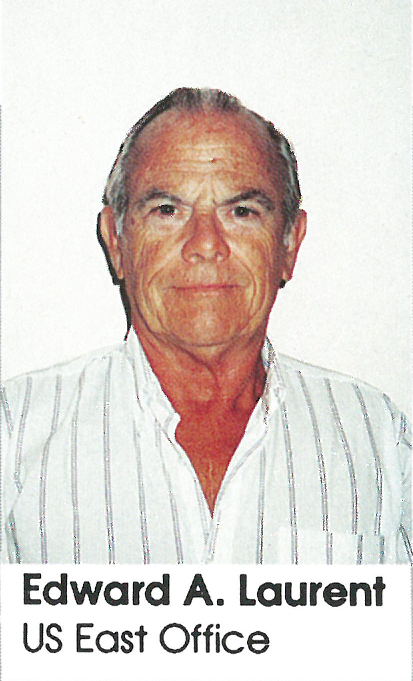 Picture of Edward A. Laurent, as Sales Manager for the US East Office of SEAS, around 1982.
It goes with the story that Dynaco was sold to Tyco and that Ed Laurent was later dismissed along with several "veterans" of the firm. At that time it matched nicely that SEAS needed a person who could represent us in the United States. Ed was employed and must have worked for SEAS for 15-16 years total. The development of H086 and 25F-EW led to an update of the A25. These devices (with H086 placed right at the center of the baffle) and a 3-position attenuator became A25XL, which was well received in the market. However the oil crisis led to the reduced value of the dollar as it sank steadily, and after 12-13 years the Dynaco adventure was almost over. The US dollar, which had been at Kr. 7.15 "as long as anyone could remember," was then as low as 4.50! Dynaco could not (or would not) increase the sales price, and thus the profitability disappeared for SEAS.
Magnus Nesdam: Nesdam had been plant manager at Videbæk Højttalerfabrik (VH) from before I came to SEAS. In 1977, when the management crisis at SEAS peaked, the board hired Magnus Nesdam as daily manager, also for SEAS in Norway. Magnus Nesdam was energetic and focused, but it would prove that he had goals that were not publicly known. For example, I believe that he took advantage of the management problems in Moss to expand the buildings in VH and strengthen its position in the group. He had a tough, at times ruthless management style and many of the staff at SEAS in Moss feared what was to come, especially those who had signaled disagreement with Magnus Nesdam in different cases. I am tempted to believe that Magnus Nesdam was vindictive. Officially, products and operations were divided between the two companies so that Hi-Fi products (rubber surround speakers and dome tweeters) were produced in Moss, while VH made "standard" elements (for radio and television, etc.). Furthermore, VH had a well-equipped and well-run park of automatic turning machines, while the punching department in Moss made plates, rings, etc. Approximately weekly a truck between Moss and Videbæk transported goods, materials and semi-finished parts. As soon as Magnus Nesdam arrived in Moss we noticed tendencies to changes in product distribution. Magnus Nesdam ensured that he was useful and convenient for chairman Hauge, and gained confidence. Hauge on the other hand was a power-hungry man who did not show much respect for corporate democracy. He came to meetings with a pre-written meeting summary, ready for signature. In one meeting the marketing manager Dalaasen (who was an employee representative on the board) held a presentation which meant that Hauge had to adjust his meeting summary. Hauge was clearly irritated because of this "interference". Such conditions meant that many employees in Moss had apprehensions regarding the future.
3/4 inch dome tweeter: With H086 and H107 in production, we had requests if we could make a 3/4 inch dome tweeter for 3-way and small 2-way speakers. After some discussion internally we agreed that this was a good idea, but it should not become a scaled down version of H107; that would result in too high a price. A value analysis suggested that screws, thread and many punching and embossing operations on the chassis as well as painting, contributed most to a high price. A project group was established, which I was put in charge of. Børja remembers some words of wisdom from Ragnar Lian. Imagine that you put the parts in a box; shake it, out comes a dome tweeter. The thought is about how to make it easy to produce good products and assembling in an efficient way. (Maybe with some element of fail-proof design)
Towards the end of the 1970s, we had good contact with MRM Plast, a local plastic molding business, and we discussed with people from there if a plastic chassis could be made with sufficient strength and precision to center a magnet system with a fine-punched top plate and additionally if the magnet system could be attached by using "snap-on" details. MRM contacted their raw material suppliers to find the most suitable plastic material. General Electric came up as the one who had the most knowledge and most materials to offer. GE and MRM believed that this could be done, but the requirement for roundness meant that the mold tool had to have central inlet and the chassis had to be essentially circular. Then we received a quote on the chassis molded in 10% glass-filled Noryl and molding tools. We felt this was good enough to place the order with MRM, but Magnus Nesdam demanded that we should ask for quotations from at least three other suppliers. He pointed out two in Denmark, Metallic and Temponik. We argued: In a new project with so many important unknowns, we must rely on close collaboration (also in physical distance) with toolmaker and injection molding business to reach the goal within a reasonable time. But Magnus Nesdam was adamant. Naturally, there was one quote from Denmark slightly lower than MRM, and obviously it was chosen. But that was not enough. Magnus Nesdam dictated that the 3/4 inch domes were to be produced and pilot produced in Videbæk! For my part a lot of creative spirit disappeared with this decision. But I worked on. With a wife, 3 children from 7 to 2 years old, a recently built new house and loans with up to 16% interest, I chose to keep the risk level low. But it would turn to the worse. In VH there was little knowledge and experience around dome speakers. I had to travel to VH several times during the winter and spring 1979 to solve tangles and train the crew that should produce and ensure product quality. On top of it all, I felt a negative attitude against me and my colleagues among the employees at VH. At one point I was so tired and discouraged that I reflected on an advertisement from NRK. I applied and got a position as engineer on NRK Laboratory, and resigned from SEAS. But first, I wrote a letter to Nesdam and Hauge where I reasoned my farewell and expressed my views on their dispositions. Thus ended my first roughly 7 years at SEAS.
Other projects: I think back to the time after the new factory was built. We had a first class laboratory with measurement capabilities that many competitors envied us. In addition to developing a variety of fine items as mentioned, we took upon us other assignments. NRK was interested in acquiring new studio monitor speakers, and found none on the market that would fit without further ado. A typical application was NRK's control center in Oslo's new concert hall, as well as NRK's regional offices across the country. Initial discussions led to SEAS built prototypes of an active 3-way system based on a 1-inch dome, a 5-inch midrange and a 13-inch bass, all equipped with the largest magnets that they could carry. Xelex AB in Sweden built corresponding amplifiers, and NRK tested it all. It turned out that relevant NRK personnel were very satisfied with the samples, and it was decided to order 40 pcs. These were delivered in 1978, and the project was reported at the AES '62. Convention in Brussels in March 1979 (Preprint no. 1438). I had the flu, so Jan Paus got the job to go there and present the report. I seem to remember that NRK ordered another 30 speakers a few years later. Another project was to develop and build 5 large stage speakers to the newly built Grieg Hall, the new pride of Bergen. A third project was developed in partnership with Acoustic Laboratory at NTH (NTNU), namely the public address speakers in NSB's new Central Station in Oslo. (NSB = Norges Stats Baner). SEAS's effort in this work was led by Jan Paus while I worked at NRK. Finally the newly built Norwegian Theatre in Oslo needed speakers of different kinds. We made various drafts, and SEAS was awarded the contract to produce the speakers.
Later the 3/4 inch tweeter with a Polyamide dome from DKM, named H202, with a non-screw assembly design was finished and launched in 1980. This was finalized while Børja was at NRK.
Another product which was finished during this time, was the 3-inch dome midrange with plastic dome from DKM, named H204, also launched 1980.
The 3-inch dome midrange was, for example sold to B&O, and used in, for example, their 3-way speaker system with the filler driver (and transient-correct design). It utilized the same ferrite magnet as for the tweeters. Ragnar Lian worked at B&O and they became cost conscious. Later B&O switched to a copy product from VIFA. Other drivers came to B&O from Foster in Japan (which was inexpensive at the time). The H204 product was kept in the catalogue through the 80's, but didn't sell much. It proved difficult to produce due to the large, soft and fragile voice coil. A metal dome was requested (from Germany), tested with a catastrophic result in the frequency response and the idea was dropped.
Later, around 1983, a textile dome version of the 3-inch dome was developed, while Ragnar Lian was at B&O. Again, there was no success. The dome itself was initially from SLC (Stoneham Loudspeaker Components).
Working at NRK: Instead Børja worked at NRK (Norsk Riks Kringkasting - i.e. Norwegian National Broadcasting). A lot of interesting work was going on, much of it at a high level. One of Børja's tasks would be to perform incoming quality control of the equipment. For example NRK would purchase a bunch of high quality microphones every year, which would have to be measured and approved. NRK often rented the anechoic chamber at SEAS for this purpose. In itself not particularly interesting, but it was interesting to be part of a large organization.
Børja remembers how digital technology was starting to show up at NRK. Børja was sent to the BBC in London, a leader in its field. They could transfer sound digitally over distances in an efficient way, using NICAM. It was interesting to meet people at the BBC and to see the difference between some who were in front of the technology race versus others (typically older people who had worked at BBC through a lifetime) using primitive techniques.
In particular, one person stands out in Børja's memory, named David Stripp. He would use a recording on an old piece of tape. Looking at the tape it appeared of technical inferior quality and it would appear almost ridiculous to use it as a reference for anything, yet the guy was exceptionally skilled. In a phenomenal way he was able to pinpoint errors or defects in equipment by ear, just by listening to this tape recording.
New start, and more plastic.
During my time in NRK, SEAS had often been in the media, primarily in Moss newspapers, but also the technical weekly magazine. I had regular contact with Jan Paus, who kept me updated on the situation at SEAS. Spring 1981 it became clear that Aktuell Elektriske acquired SEAS, and that JP was hired anew. He was not slow to offer me employment. We both knew that there would be a tough time getting SEAS on course again, but had no doubt that we had to try. There were many things that made rebuilding tiresome and complicated. Several key employees, both in the Lab and elsewhere had new jobs and could not return. The accord as Nesdam had entered into with its creditors, led to great expense and much tug of war before commodity shipments could get back on track. In retrospect, it seems that the accord was signed to cause maximum inconvenience and expense for SEAS. In addition, we had to inform the customers so they could have a more balanced picture of the situation. It was evident that our former sister company in Denmark had been converted to a very aggressive competitor that did not exclude the use of abusive methods to set SEAS in a bad light. For example, we had to stop some suppliers from delivering goods from our tools to Videbæk. But the main thing for us was to get the wheels turning again, i.e. production of old products and developing new ones. First in line of quests was the 3/4 inch dome where we had to make a molding tool for the chassis. We contacted MRM Plast who sporty took up the thread from the preliminary rounds. In addition to solving the main task in a quick and inexpensive way, they suggested changes that would prove to be invaluable. The half part of the tool that defined the front of the chassis was divided so that a small portion, a matrix insert, could be replaced to change the faceplate shape, thickness and surface finish within reasonable limits while the complicated "technical" backside of the chassis remained unchanged. For a reasonable tool expense we could thus offer to our customers exclusive versions of our standard products, f. ex. with customer logo embedded on the front. Parallel to this, we developed the three inch dome with similar technology (plastic chassis and "snap-on" attachment of the magnet system). In retrospect, it is obvious that this product gave significantly poorer profitability than the 3/4 inch dome. Our experience with the 3/4 inch chassis, especially in regard to cosmetics and flexibility, made us choose to replace the aluminium chassis in the 1-inch dome with a plastic version. But the heavy magnet system did not allow "snap" assembly, so we retained screws. The Cosmetic improvements immediately resulted in a positive response from the market, especially Germany and the UK.
According to Jan Paus, Bjørn Børja is hired back as R&D Manager, but this is not something Børja remembers particularly clear, and he has also never been particularly interested in titles, rather the flat organization and getting things done was his mantra. Børja remembers when Jan Paus is promoted from Technical Manager to General Manager for SEAS, when Børja experiences he has to step up and into the shoes of R&D Management.
Cone diaphragms in plastic: SEAS designed and started production of woofers and midranges with Polypropylene cones, initially for Mission in the UK.
Engineers with backgrounds from the BBC had developed some interesting plastic materials for cone diaphragms, namely PP (polypropylene) and PP / PE (Polyethylene) copolymer. Harwood, Pao and Stebbings received their US-patent for PP-cones: 4.190.746 26. Feb. 1980. (Filed 18. March 1977). These were well suited for midrange reproduction in general and bass in 2-way speakers. For more dedicated woofer elements it became common to stiffen up the plastic materials with e.g. talcum.
DKM was early in promoting such material, and we quickly developed the P21RE series and the P25RE series with membranes and rubber surrounds from DKM. Initially DKM assembled the surround and membrane, but we found that we had better results (less edge resonance) with our own adhesive technique. Thus we had relatively quickly a handful of news on the pitch. Parallel with the plastic cones, some high-loss rubber compounds became available, which further reduced edge resonances. This combination became very popular in the UK and we were early with a 21cm and later a 17cm family based on membranes from Stoneham and surrounds from Metflex. Mission was interested and bought initially great numbers from us, but later became strongly bound to Videbæk. We had a feeling that it was for reasons other than price / quality that underlay but could not influence the situation significantly. Tannoy in Glasgow bought nice quantities of our 1-inch dome, and I remember Neil and I visited them. They were early in adapting PP cones which they produced themselves. Unfilled PP is almost as difficult to bond as Teflon, so we struggled quite a bit with gluing in Moss. But employees at Tannoy were surprisingly open about how they had solved the problems and gave us several hints and impulses. We tested the corona treatment, grinding (with emery), flame treatment and chemical treatment with a rather aggressive primer. In the long run it was the chemical method we chose to use.
Neodymium: Børja was tipped regarding Neodymium magnets very early. He met Kaye Weedon at a meeting in Norsk Radiohistorisk Forening (Norwegian Radio Historical Society). Børja was not a member at the time. Kaye Weedon was talking about fiber optic cables in a historical perspective. This was around 1982. Weedons day job was with "Nerlien" in Oslo (the importer of Kodak products, both cameras and film). Børja and Weedon came to talk. Weedon had an incredible network. He personally knew Vebjørn Tandberg and had a good understanding of loudspeakers and, for example, he had built his own horn loudspeakers while studying in Trondheim in the 1920's.
Weedon asked Børja - "Do you know what's happening in the USA regarding magnets right now?" To which Børja replied that SEAS had worked with Ferrite and Samarium-Cobalt magnets and only for a shorter period at the time. Weedon explained how he had read an article by General Motors engineers, who were replacing stator windings in the starter motor with permanent magnets - Neodymium magnets.
Børja got hold of the paper and later received samples of the Neodymium magnets. He asked himself, what can you do with these? SEAS did not own any magnetizing equipment which could fully magnetize the magnets. This was one of those times where Børja missed cooperating with Ragnar Lian because he was the kind of person who knew so much about many things and was always able to find a way out.
Later, Børja was able with good help from Lian to make magnetizing equipment for SEAS. It was maybe not the most practical and flexible equipment, but capable of magnetizing neodymium. He found it interesting to make like a 4-5 inch driver and place a tweeter in the center on top of the pole piece. Coaxial speakers were well known at the time in several different designs, but not exactly like this, which required the tweeter to be very small. At NTH (today NTNU) in Trondheim, they had an 18-inch RCA woofer in a coaxial configuration with a 3-inch tweeter, with crossover. Børja's idea was to make a much smaller speaker, suitable for hi-fi use.
Own manufactured dome diaphragms: In 1983, we received an invitation to a 3-day seminar in Thermoforming of plastics at Illig in Heilbronn. This company makes machines for forming thermoplastic packaging (blister packing) and all conceivable industrial products. We thought that this could be useful in conjunction with potentially own production of plastic membranes, both domes and cones. We gave Illig commission to produce a tool for a dome diaphragm that we would trial-produce in connection with the seminar. Kurt Stølen and I were selected to participate, and after three days we had a good insight into Thermoforming basics and mysteries, both theoretically and practically. At the very end the membrane tool was tested, and so we travelled home with the tool and a small number of membrane samples. Back home, we found that the coil diameter had a deviation of several tenths mm. The engineers at Illig had not taken properly into account the plastic shrinkage. Kurt measured membranes and tools as accurately as he could, and started to create a new tool. He also created a simple means to clamp and heat the plastic foil before the foil was passed over the utility and was clamped to this with a "cup" of aluminium that was pressurized using compressed air. We found, that the membranes from Illig (which were formed by vacuum) had insufficient definition of the details. With compressed air, we achieved up to six fold of shaping force compared to vacuum. The result was so encouraging that Kurt and his men were immediately asked to create an automatic forming machine for dome membranes. After a period of calculation, design, build and test, the machine delivered one membrane every 7 seconds. Importantly the quality of the membranes was better and smoother than the ones we purchased; in addition the price was reduced. An added bonus was that we henceforth became able to create tools for new membrane variants quickly and inexpensively ourselves, thereby reducing costs and time consumed by the introduction of new products. No one has so far as I know calculated how profitable this machine has been, but I suppose this must be one of the best investments that have been made at SEAS in my time. As far as I know, the machine is still in operation today and another variant machine made around 1990.
The problems with moisture dependent high frequency response by polyamide made sure we were on constant lookout for alternative materials, primarily plastic foils. But we found no solution. Jan Paus repeatedly mentioned that there had to be textile materials which could be used. We began searching among coated textile materials, because the foil had to be airtight if we should be able to shape it. The answer was stumbling near: Helly Hansen in Moss produced light rain garment coated textile and other plastic materials. Could such materials be used? Terje Johansen, who had worked with design, construction, control, systems and procedures since 1974, took action and established contact with Helly Hansen and some other manufacturers of coated textile. Various sample materials were procured, and the excitement was great when we tested samples in the forming machine. The result was exceptional, and laid the foundation for a new era in our dome production. It turned out that the coating was ideal for our forming process, and also had good damping so that a controlled HF response could be achieved. On top of it all the coating was stable to variations in humidity. We experienced, albeit some problems related to 0/90 degrees orientation of the threads in the fabric, but not greater than we could solve them. These experiences in addition to the automatic forming machine I believe are the main ingredients in the recipe that gave SEAS the ability to survive in a tough market.
We experienced the PP cones combined with high-loss surrounds as something very promising. Especially in the midrange and therefore we all agreed to bet on it. Unfortunately, there were some customers who did not at all want the PP/high-loss designs. In any case we had to modify the basket, etc. as initially designed by Jan Paus for his 17 cm woofer, to increase the excursion. This is the short version of the history behind the CA17 and CB17 woofers.
The CA17 woofer was a major success and among others, Wilson Audio chose to use this woofer in their successful Watt/Puppy design. It was also one of the best times ever for Wilson Audio as a company. This reference meant that the CA17 and later CB17 woofers were considered some of the highest quality speakers available for its audiophile and musical qualities and many designers chose these woofers for their own speaker designs. Other transducer designers (also from other speaker manufacturers) were inspired by this design, which was moving opposite to the general trend in the market.
Metal domes: In 1982 Rola Celestion launched the SL6, a cabinet of about 15 liters with a 17 cm woofer with plastic membrane, and a tweeter where the dome and coil former was made of copper in one piece. The Hi-Fi press around the world tested the product that received both praise and criticism. We did of course obtain a copy to make our own experiences. The greatest interest was linked to the tweeter. We found that the tonal balance was on the dark side, which was not surprising since copper has a density of about 8. We discovered a high, pointy resonance peak at 20 kHz, which the manufacturer had suppressed by means of a notch circuit filter. But all in all we heard some qualities that interested us. We believed that other, lighter materials than copper had to be more suitable, and challenged again Kurt Stølen. He performed experiments, primarily with aluminium foil, and quickly realized that it would be very difficult to create the dome and coil former in one piece. After thinking over the matter, we realized that to wrap the coil on a coil former with integrated dome would complicate it all. Kurt Stølen could shape domes with a short cylinder which the former could be glued into. On the outside of the cylinder we could glue a surround which consisted of a dome diaphragm made of plastic or textile where the dome was removed through a cutting operation. We had various tests made that showed that we could achieve roughly the same sensitivity as our textile domes, and consistently keep the resonance peak well above 20 kHz and with a lower Q value than the copper dome. The first SEAS Aluminium dome tweeters were launched in 1987.
We soon experienced that the aluminium dome was heavily exposed f. ex. towards pointing fingers, and chose to protect it with a fine wire mesh. On the inside of the grating we attached a "lens" (small tape rondelle), and by optimizing the diameter we achieved an almost total suppression of the resonance peak. Tore Tambs Lyche (TTL) who was employed in the Lab in 1986, further developed this concept to "diffusors" molded in plastic for both the 1-inch and 3/4 inch domes. These gave adequate protection of the dome membrane and suppressed the resonance peak better. Kurt Stølen made a forming machine that produced aluminium domes at a high quality and at a very low price. At this stage, the membranes were without surface treatment, and thorough climate experiments showed that this was justifiable. However, wishes came from the market about colors, for example, gold, black and red. Then we got out to subcontractors of aluminium domes who could also anodize. In spite of statements from various advertising people in the industry who claimed their anodized products caused large sonic benefits, we found no significant improvement. Like the self-produced plastics and textile domes, the aluminium domes must undoubtedly have contributed greatly to the profitability of SEAS.
Objective end-of-line inspection: Before Tore Tambs-Lyche (TTL) came to SEAS the final testing of speaker elements had been subjective: A trained operator controlled a sine generator and listened to the sound from the speaker inside a well cushioned and noise insulated enclosure. A trained ear can perceive rather weak murmurs in terms of noise and distortion, but not so easily changes in volume caused by faulty impedance, weak magnet, etc. Above all, such a test method is a strain for the ear and the psyche of the operator. We had made some advances in the direction of measuring frequency response and impedance in the final control, but without much success. TTL who is a musician and has extensive experience from recording studio work, handled the problem with enthusiasm, and suggested that we started with the dome test. We procured a P400 measuring computer from Ortofon, and around this TTL established an "anechoic box" with B & K microphone, adapters to adapt all our tweeters to the box, as well as amplifiers and control electronics etc. Eventually a test system emerged which checked that the frequency response of sound pressure and impedance was within given tolerances, noise and distortion were below a given threshold and that absolute phase was OK, all in a matter of seconds and with a clear indication to the operator: OK or FAIL. This was a quantum leap in terms of both quality that our customers experienced, but also when it came to detecting and correcting errors and deficiencies in our production. Not least this meant a strongly reduced strain for our operators. I feel that we started with this just in time, because around this time good acoustic measuring equipment became available on the market at an affordable price and more of our customers went to procure. In the second round TTL went on to the test of cone speakers, an even more demanding problem. Also here the task was solved in a splendid manner. This equipment has been TTL's "baby" throughout, and has been improved and modernized when necessary. Today the P400 is used for testing dome assemblies, but otherwise has retired and central equipment is supplied by Klippel, but the equipment reveals quickly and mercilessly small deviations from the norm, as it's required in today's tough market.
Coax revisited: The work with the coax took several years. In the end when Børja was satisfied, he decided to send a pair of samples to Bang & Olufsen in Denmark, around 1988, which was a company that SEAS had good cooperation with. B&O also had a good cooperation with KEF at the time and B&O passed the information that the design looked good, but KEF had filed a patent which had just been published.
Years of work and research seemed to be at stake here. SEAS disputed the patent with arguments like; there was not enough of an inventive step in this patent. There was nothing new about coaxes in itself. KEF replied that it was the Neodymium which made this a new and patent worthy idea. Furthermore, in the USA some companies had already launched small dome tweeters with neodymium magnets, just not in a coaxial design. The disputes led nowhere and Børja's image of the patent system suffered because it would seem the system wasn't listening to any of his arguments. Was it all just a matter of who had more money or who had a better lawyer?
SEAS had to accept the situation and decided that SEAS had to start negotiations with KEF. It was Børja's impression that KEF showed a very human side. They were willing to accept that SEAS could obtain a license and that SEAS would not have to pay much for it.
Magnesium cone speakers: SEAS has a tradition of using cast metal baskets. Initially, the material is aluminium, but at some point it became possible to mold automatically, thus cheaper, in Magnesium (Mg). This metal has been readily available in Norway since it was produced by Norsk Hydro. There were also a lot of knowledge and experience with the material at Norsk Hydro in Porsgrunn. In the 1970s and 80s, most baskets were made of Mg, and was delivered by a foundry in Tønsberg. Mg is very easy, fairly rigid, and would be well suited as a membrane material. The problem is that the thickness of the membrane must be about 0.5 mm, and no Mg foundry would attempt something like that. However, Jan Paus had strongly believed in this and took contact to Ulf Foldvik, a man of great experience from Mg casting. He believed that he could cast a membrane which was about 1 mm thick, and then machine it by turning to the desired thickness. He was also willing to prepare the mold tool for a symbolic price. So Jan Paus gave the go-ahead and Ulf Foldvik started. The first membrane samples were molded and turned, and one problem arose immediately. Impurities in the casting were very hard and destroyed the cutting tool instantaneously. New rounds of "High Purity" Mg and top cleanliness in the casting process gave improvements, but it proved impossible to obtain sufficiently constant thickness between cones. At this point, Kurt Stølen was consulted. He visited the supplier, and after various tests he believed that this should be possible for him to handle, but then the lathe had to be moved to SEAS. After much work, it was apparent that the requirements for thickness could be satisfied. After the thickness was achieved, the center and outer edge were punched free, and the diaphragm could be sent to chemical processing and subsequent lacquering. Mg namely corrodes easily, and must be protected.
Just to arrive at a good and economically acceptable method of protection, was a very time consuming task. But at last we had membranes that could be tested acoustically and speaker samples were built with standard magnet systems. The disappointment was great when we measured the first samples and noted that the distortion was not as low as expected from the rigid material. After much contemplation, it struck me that it had to be the magnet system which caused a lot of distortion. We created a magnetic system where we encased the pole piece within the air gap with a copper tube and mounted a similar tube outside air gap. The idea was that the inner tube would reduce eddy currents in the pole piece and prevent flux modulation. The outer tube should ensure that the coil inductance would get a symmetrical, almost constant value in the operating range. This worked brilliantly, and I experienced some happy moments in the lab that day. To show customers that this was something special, we let the topplates be plated with copper, and on top of the copper tube in the cone neck we placed a beautiful turned copper phase plug. With a good effort from the Lab, the workshop, our subcontractors and other contacts we had made the first commercial loudspeaker available with a Mg-cone! And it had clearly measurably lower distortion than conventional speakers. One drawback was that the membrane exhibited a crystal clear resonance, but it was very constant in frequency and Q value, so it was possible to suppress relatively easily with an additional capacitor in the crossover.
Development of the Excel series with cast magnesium cones was launched in 1993.
Børja continued to work with Neodymium magnets. One of his goals would be to design tweeters that could go lower in frequency. It required holes in the magnet system to reduce air flow and at the same time preventing pressure building up in the system.
About the Excel dome tweeters: In order to offer a tweeter that could match the magnesium cone speakers, we developed T25CF001. It was based on known technology, but the chassis was converted into a sub-chassis and a new, solid metal faceplate was designed, to be cast in zinc and painted. A new solid chamber behind the magnet system was molded in plastic. This item was expensive and we expected a modest turnover. But the market surprised us with a desire for more and more, so we had to introduce several changes to make the product more production friendly. This was primarily TTL's assignment. He had long since become the dome specialist at SEAS, and ensured that the dome production line worked perfectly, all the way from the membrane production to the end-of-line test. For a period of time we worked with a pure silver voice coil magnet wire, but our problems with obtaining a proper quality etc., made sure we walked away from this. Nobody at SEAS could honestly say that they heard a difference between silver and copper. The product was launched in 1994. Personally, I had experimented with Neodymium block magnets and identified a magnet system that gave certain advantages in the tweeter and midrange, and for which we sought patent protection. We called the system Hexadym and the first product on the market was the Millennium, our most expensive tweeter so far. The faceplate was also solid and molded from Zink, but the horn in the center was turned on a lathe and made from pure copper. A solid hexagonal chamber, also cast from Zink, sealed the rear. I found it very satisfying to be allowed to participate in the development of such advanced products.
The playing around with Neodymium, testing different configurations, ended up being the Hexadym magnet system, patented by SEAS. The first patent was applied in Norway in 1997, and then later expanded to the USA and several other countries. It was quite an experience for Børja to work with patents this way. It also appeared very costly and during the time, SEAS later decided to drop the patents in several countries. At the moment only the US patent is active.
The Hexadym magnet system solves a number of different issues, amongst them in particular aligning pressure various places in a tweeter, not only when playing loud but also during e.g. transport by airplane across continents, most problematic with for example Ferrofluid cooled and damped tweeters.
The end result of the Hexadym magnet system would come to be the Millennium tweeter, still a highly regarded tweeter on today's hi-fi market.
New colleague in the United States: In the mid-1990s, it became clear that Ed Laurent came to retire after nearly 20 years of hard work as "Mr. SEAS USA. "I had a very good relationship with Ed all the way and have great respect for his efforts as a designer of tube amplifiers. I probably heard a sense of history when he once told me that he, as a young boy had been with his father on a visit to Lee DeForest, one of his father's friends, and the inventor of the triode radio tube that had enabled amplification of electrical signals. John Stone visited SEAS shortly before Christmas to get to know us, and chose to take over after Ed after a short pause of reflection. He quickly became familiar with the conditions, had impressive technical insight, and had many new contacts, which was good for SEAS. He shared moreover my interest in historical radios and audio, which made the contact even more interesting for me. John was informed about our new products and our development plans and went enthusiastically into the job to speed up the development work with the Excel products. We used the Hexadym principle also in the midrange context when we developed M15CH E0016. Here we had a new cast basket with very big "sound openings" (windows) combined with a magnetic system which was small and acoustically open so that it didn't reflect sound or obstruct air movement noticeably. The system contained of course shorting rings and a phase plug of copper to achieve the lowest possible distortion. The PP membrane was terminated in a rubber surround with high internal damping. This was a midrange developed for the most demanding applications. I remember that we presented our new products at the show in Las Vegas, when Richard Vandersteen came into the room and asked me to show him the highlights. It seemed that he found the Millennium Dome very interesting, but when I showed him M15CH, he said: "This one infringes on my patent!" I felt like I knew him well enough to fire off a typical American movie remark: "See you in court!" as I assumed he was joking. It turned out that he was deadly serious and he left the room in affect. John and I were busy examining his patent carefully and measure and calculate details of the M15CH. We visited him the next day and tried to convince him that we were not infringing the patent. But he would not talk about the case until he had discussed it with his patent attorney. Not until many weeks later, John came to know that the lawyer had studied the matter and concluded that we had not infringed on the patent. I do not think I've used that comment ever again. I remember that I witnessed the episode as highly unpleasant, not least because there were other customers in the room, in addition to Ed and Joan Laurent who stopped to greet us. But today, 15 years later, I look back on the episode as an interesting and memorable event in my loudspeaker career.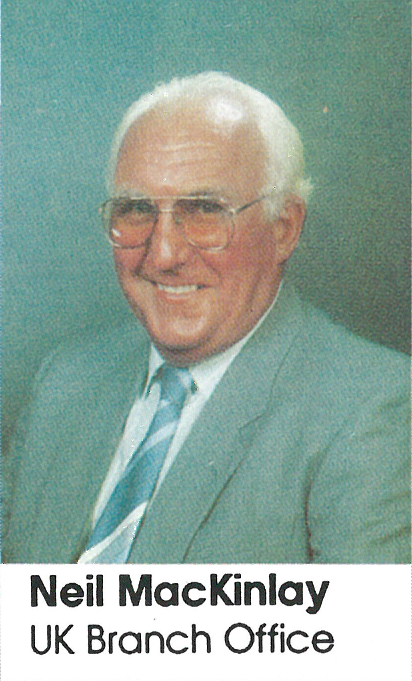 Picture of Neil MacKinlay, as Sales Manager for the UK Branch Office of SEAS, around 1982.
Another staff member, Neil MacKinlay, withdrew a few years after Ed. He was director of Rola Celestion at the time I worked at Tandberg. I remember he was on a sales visit once and presented Rolas products for us Tandberg engineers. He created an unforgettable atmosphere during the meeting with his personal style, where facts were spiced with anecdotes and stories from the past. The visit resulted in us choosing a 12-inch subwoofer from Rola for the TL 5010, a 50 liter speaker that was under development. After Neil joined SEAS around 1978, he and I drove several thousand kilometers in England and Scotland to shows and visits to customers and suppliers. He was a master of creating coziness around him. And he had an incredible memory. Only occasionally he needed to take notes. He was in the true sense a gentleman. If I were to mention a "weak" side, it must be that he sometimes had a little more confidence in some people than they deserved. And on a few occasions was this trust abused. When Neil retired around the turn of the millennium, Jan Paus chose to cover the UK market directly from Norway and then it was he and I who took the first tour together. We of course drove a trip to Ipswich for a nice chat over a meal together with Neil and Mary.
The management and the board of directors had long been talked about that the generational change had to be prepared when both Jan Paus and I approached the retirement age. The result was that Olav M. Arntzen was hired to work in the lab (2000). The idea was that he would take over from me, for a smooth transition. The following year we searched for an engineer who could work with general tasks, but we envisaged the cone speakers as his primary assignment. Bjørn M. Idland was hired (2001) as the most promising candidate. This would prove to be a lucky decision, not to mention a lucky timing. It was not more than a couple of years before I got the symptoms that eventually proved to be Ménière's disease (see details later), which led to severely impaired work capacity. Thus Olav had to take over responsibility for product development and Lab a good deal earlier than we had envisaged. Bjørn M. Idland also quickly became productive, and more than satisfied my expectations when it came to quality and capacity. Whatever tasks he was assigned, he solved them quickly and in an excellent manner. Bjørn M. Idland worked at SEAS for 10 years. Overall, I found the Lab had a fabulous crew, with good knowledge, experience as well as very good cooperation skills. I felt that development and other technical tasks were in the best hands.
In 2002 Børja resumed his interest for the Ford Model-A. There was a frame with an engine, 4 wheels and a radiator available for renovation. Bits and pieces were spread in the Oslo area. Børja's cousin recommended that he buy this project. During the next 8 years, Børja would spend much of his leisure time on the project to almost complete it when retiring from SEAS. Børja remembers how he spent the entire Easter break, while SEAS was closed, in the workshop and fixing everything. During such a project you get an incredible intimate relation to the car and you know everything, including every detail, for example inside the gear box.
Model A arrived at the car scene late in 1927. Børja's model is one of the earlier models, dated February 1928. It is black, which is not an original standard color, but had to be ordered on request. Black was at the time very rare (the wheel wells and the sides are black on all models).
The car would for a longer period of time be located in the SEAS facilities during the renovation process and Børja very much appreciates how SEAS allowed this to go on. It was very convenient.
The motivation for Børja is not to drive the car. Now that the car renovation is finished, he is considering selling the car. The important side for Børja was to work his way through the pieces and re-build the car.
As of today, Børja is a member of the Norwegian Model-A club, which meets 6-8 times during winter at Kjelsås near the Norwegian Science Museum.
Børja explains: My youth interest in the A-Ford has been kept alive, and when an open 5-seater in parts was advertised for sale in 2002, I bought it. I imagined that I could have a restored car on the road within 3-4 years. In my spare time I worked to overhaul the engine, brakes, transmission, differential, generator, self-starter, carburetor, headlights, tank, radiator, etc. The steering (worm gear) was worn out, but with great effort from Kurt Stølen it was restored with new bearings, and it was like new. From the United States, I bought seat and back springs and materials for upholstery as well as the folding top and new tires. The fenders (front wings) were missing, so I bought two nice, used original fenders. Various dents and cracks in body parts were directed and welded. Sandblasting, priming and painting I handed over to professionals. When all the pieces were to be assembled and fitted, I was allowed a place in SEAS's workshop during the Easter break. This eased the work considerably, but at this time eight years had gone by! Much of the time went with "archaeological" studies. Vehicle identity was obscure, but along the way I found out that the car's engine was assembled and approved on 15th February 1928. The car rolled off the assembly line at the Fordson plant in Detroit a day or two later. Then it was sent by ship across the Atlantic and arrived in Harstad mid-April 1928 where it worked as a taxi cab with the sign X-4 for a year. Later it drove six years in Bardu as X-387. The car has these license plates today. Later it arrived at Sandhornøy near Bodø where it went as a grocery transport car and later as pick-up / tractor until it was put in the barn in the 1960s. In 1975 it was sold to an enthusiast in Buskerud which sold it further on. After 3 additional owners, it ended at me. The entire restoration has been instructive and interesting, and now that the car is in mostly pristine condition, I take a ride with the festive occasions. I am a member of the Norwegian A-Model club that organizes meetings and trips and socializes. And as the years go by I can console myself with the fact that in any case, I am younger than my car.
In 2003 Børja experiences a severe hearing disturbance, which was diagnosed Ménière's disease. This can hit anyone and shows up like lightning from a clear blue sky, but is particularly problematic for someone working with audio and using his hearing for his work. This was a horrible experience, where it would come and go away under arbitrary circumstances. With Ménière's disease you experience dizziness and nausea, maybe a bit like being seasick but much worse. It would completely inhibit Børja from working, although he tried to move on and continue his work presumably unaffected for a long time. During periods he had to work part time, 50/50, being allowed to come and go as it would be possible with the disease. Some periods of time he was 100% sick. It was crippling. Today Børja lives a normal life, but as a consequence of the Ménière's disease, he has severely reduced hearing in his right ear, only able to hear below 1200-1500 Hz. It is not possible with a hearing apparatus to correct it by boosting the high frequencies because the ear is overly sensitive to loud noise. The left ear has a normal age-related hearing loss.
Fullrange drivers (Exotic): Ragnar Lian moved to Norway in the mid-80s, to work at Elektrisk Bureau and Børja picked up the connection. They started talking a lot and the dialogue with Ragnar Lian was very rewarding. Lian talked openly about everything he knew. Since he had been into many strange subjects during his life, he knew a lot about some strange stuff and a little bit about almost everything you can imagine. Børja experienced Lian as very open for input, as an exceptionally creative person, who uses his extensive imagination in a playful, almost childish way (meant in its most positive way). Lian was comfortable with many engineering disciplines such as high-current electrics, impulses, thyristors and transistors and much more.
The dialogue with Lian eventually leads to discussion on old drivers. Lian had a keen interest in the broadband speakers from the inception of the loudspeaker industry. One in particular comes to mind, the Philips 9710, which was introduced in the 50's and continued in production in various versions in the 70's. It is a driver with AlNiCo magnet system, underhung, copper on the pole piece and a Whizzer cone. Much of the design is impressive and generally it's a speaker well done. The discussion and the Philips driver were the inspiration for the development of the first SEAS Exotic driver, the F8 fullrange, launched in 2007. The driver leans on philosophy from the old days, including extending the frequency range with a Whizzer cone, a fairly small 1-inch voice coil (today you can put quite some power into such a small voice coil), but at the same time implementing modern technology, like a lightweight foamed rubber surround, etc. Thinking the old-fashioned way about it, but using modern materials. As an example Børja tested textile surrounds but found they didn't sound good, instead foamed rubber was chosen as the material for the surround.
I felt privileged to be able to work primarily with tasks that were pleasurable, and that were not urgent. As 50% capable of working as "Senior Audio Designer" I could choose a theme that Ragnar Lian and I had talked a lot about, namely broadband speakers. I chose to look back at a time when the amplifiers had a modest power output, and it was demanded by a driver that it would render the whole frequency range alone. A clear advantage compared to two- and multi-way systems is to avoid the interference that occurs when two or more sound sources operate in the same frequency range. This eliminates localization problems. I aimed at developing a classic 8-inch broadband driver where I could choose modern materials from the top shelf where they could provide better features. It is no secret that the starting point was the Philips 9710, a construction from a time period when FM radio and 2 to 5 Watts tube amplifiers were the framework conditions. The result is known, Exotic F8 was the first product in the Exotic family, and it enjoyed a nice reception in the market. Later came an 8-inch woofer and a 34mm dome tweeter, both with AlNiCo magnet. I do not know whether these were equally successful, but I think in any case that they were pretty good.
The first SEAS Exotic product, the 8-inch F8 fullrange driver, was launched in 2007. Later came the W8 woofer and the T35 tweeter. All of them using AlNiCo magnets.
Olav M. Arntzen officially takes over as R&D Manager in 2006. Børja changed job to position senior engineer.
One day in 2008 Børja was at home, reading his newspaper, when he experienced a burning sour feeling in his throat as if he had eaten too much. He took medicine to reduce it, Samarin, and when this didn't help he drank some water. It was unpleasant and Børja called his doctor, who asked him to come down and have an EKG. He was diagnosed with a heart attack and the doctor immediately called 911 (Norway: 113) and Børja was hospitalized. He had a couple of arteries expanded by angioplasty. He has never had any problems since, but is taking medicine every day.
In October 2010, Børja just turned 67; he retired from SEAS, having worked at SEAS for a total of 37 years. The last 7 years had been hard, also to his wife and people at SEAS and Børja looked forward to retire and relax.
Flashbacks: Although we experienced a lot of drama and frustration around 1980, the main impression my time by the SEAS: harmony, security, transparency and good climate of cooperation. And I mean in the whole enterprise. Such conditions do not occur automatically. The leader of a company must be a role model; he must face the employees with openness and trust. I've often joked that there are three steps up the corridor from the factory to the administration building, and that these steps could symbolize distance between "them" and "us". At SEAS this distance has been practically zero. Jan Paus has had an open door, and listened to anyone who has had anything they wanted to bring up. The flow of information about what is happening and how it goes with the business has been good, and much better than in any other company I know of. His efforts to further educate and "modernize" the employees as well as create a good social environment have been exceptional. It's easy to take it for granted when conditions are good in a company. But in the case of SEAS, it would not have existed today if not Jan Paus, Liv Stensrud and Karin Gjerstad among others, had stood on the barricades when the storm was at its worst. I think about this quite often and I thank them and all colleagues for many interesting years in an exciting business.
---